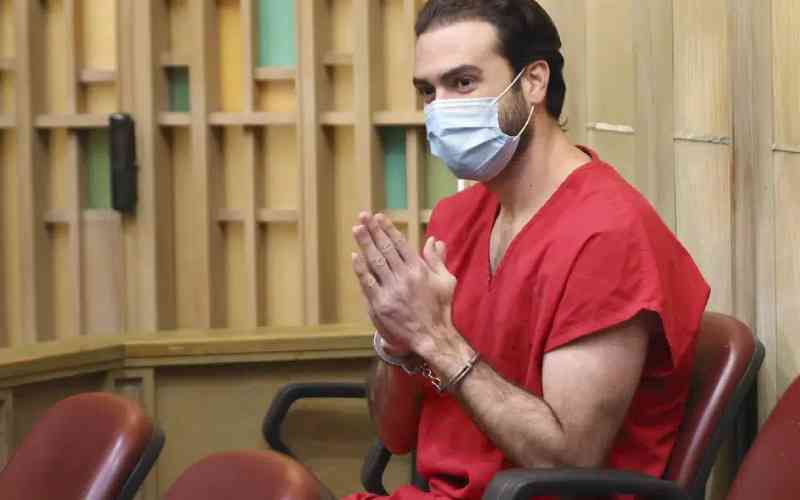 Mexican actor Pablo Lyle was sentenced Friday to five years in prison for involuntary manslaughter after fatally punching a man during a road rage confrontation in Miami in 2019.
The sentence came almost four years after Lyle was charged with murder in the death of a man he struck during a traffic incident.
Miami-Dade Circuit Judge Marisa Tinkler Mendez announced the sentence two months after rejecting the actor's request for a new trial and upholding the guilty verdict reached by a jury in October.
The 36-year-old Mexican telenovela star, who appeared in the Netflix crime series "Yankee," had faced a maximum sentence of up to 15 years in prison. The judge also ordered eight years of probation, conflict resolution management and 500 hours of community service for the actor.
The actor has 30 days to appeal the sentence.
Dressed in a red jail uniform, Lyle looked calm and expressed repentance during the more than three-hour hearing. He has been detained since his Oct. 4 conviction.
"I am very sorry," Lyle said in Spanish, looking at some of the members of Hernandez family who were in the court room, among them his son. "I always pray for him and for you, with all my heart."
After a week-long trial, a six-member jury convicted Lyle of involuntary manslaughter in the death of Juan Ricardo Hernandez, 63.
Hernandez, who was unarmed, suffered a traumatic brain injury and died four days later while hospitalized.
Lyle's lawyers argued that he acted in self-defense. They also said that there were inconsistencies in the evidence during the trial.
When handing down her sentence, the judge, however, said that Lyle made a "poor decision" and acted "out of anger."
"The evidence shows that the action of Mr. Lyle was an act of violence," Tinkler said. "Mr. Lyle has to be held responsible for those actions."
The road confrontation was captured by security cameras.
Lyle's brother-in-law was taking the actor, his wife and two children to the airport. Their car passed that of Hernandez, who stopped at a red light, got out and approached the driver's window of Lyle's vehicle to claim that they had blocked his way.
According to security video footage, Lyle and Hernandez got into an argument, and the actor punched Hernandez in the face. Lyle claimed he was defending himself. He said that his children were terrified and that he feared Hernandez had a weapon.
At the hearing, Lyle's wife, his brother-in-law and his sister offered testimony before the judge made her decision public.
On Hernandez's side, his son described him as a very happy, attentive person, with good health and principles. Juan Ricardo Hernandez Jr. asked the judge to sentence Lyle to the maximum of 15 years.
He said that the day before the altercation, he had been with his father.
"I didn't want to believe it was him," Hernandez's son said of going to the hospital to see his father after receiving news of the incident.
Related Topics