Elseba Awour Kokeyo, popularly known as Cebbie Koks, has always been affiliated with her sister, the businesswoman and entertainer Akothee, and their complicated relationship.
It was no different when she wed City lawyer Steve Ogolla in a lavish traditional ceremony in Rongo last month in a shindig that screamed opulence and affluence.
As she dazzled in a white and gold dress beside the groom who stepped out in an emerald green traditional hat and white outfit, the question on everyone's mind was, where was her big sister, Akothee?
The guest list featured special guests such as Lang'ata member of Parliament 'Jalang'o', Deputy Speaker Gladys Boss, Agriculture Cabinet Secretary Mithika Linturi and Internal Security Permanent Secretary Raymond Omollo who showed up in a green chopper to match the theme.
Koks shared a sweet post with her cousin Raymond Omollo, sharing how excited she was for him to be in attendance, saying, "Well, before the good news, you told me, 'cousin, I will come and I'm so happy for you! Always proud of how you carry out yourself."
Publicized affair
Other than her sister Akothee's absence, what enthralled Kenyans who have been following their much-publicised love affair on social media was the ceremony of handing over the cows or dowry known as "Nyombo" in Dholuo.
The groom escorted 30 cows to the bride's rural home, which many scoffed at a showoff since in Western Kenya, the cows exchanged rarely exceed ten and they are never paid at once. But it is not just the number of cows that kept idle Kenyans setting camp on online platforms for debate.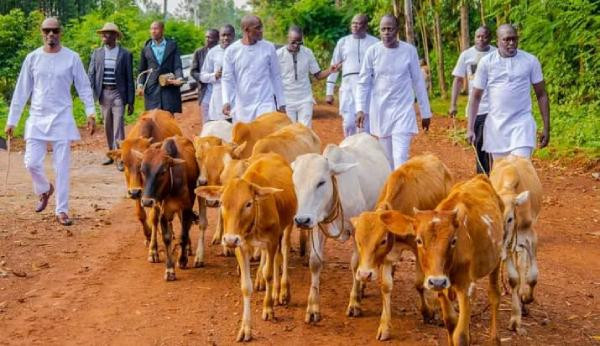 Those with a mean streak slammed the flamboyant lawyer fo only gifting his in-laws scrawny, small sized zebus, and not fat hybrid stock.
But people familiar with Luo culture and who were in his corner argued that traditionally, only young stock is exchanged in bride price, and that in any case, managing hybrid cows in Bondo would be a challenge because, unlike zebus, they are susceptible to east coast fever which is spread by tsetse flies.
Those in the know say the wedding was a two-day affair which included a change of clothes five times, three for the bride and two for the groom.
Not on good terms
The bride's famous sister Akothee had explained in a video she shared on social media in August she would not attend the wedding because they had not been on good terms for close to a year due to various reasons.
"We are having another event in December which I am also happy about. I am so happy. From the bottom of my heart, I mean well. The only thing is I was not going to go to that wedding anyway because me and my younger sister have not been in good terms for close to a year now, maybe you do not know.
"I haven't said she is evil but I packed my bags out of that relationship." She went on to explain that since her sister was exposed online for bad-mouthing her, their relationship has never been the same.
"Again, another message landed on my table that my sister said that I don't defend her when you people are attacking her. Please, I am human, I don't know how I'm supposed to defend my young sister."
While she gave the wedding a wide berth, her two daughters popularly known as Rue baby and Veshashaillan went all out to support their auntie on her big day.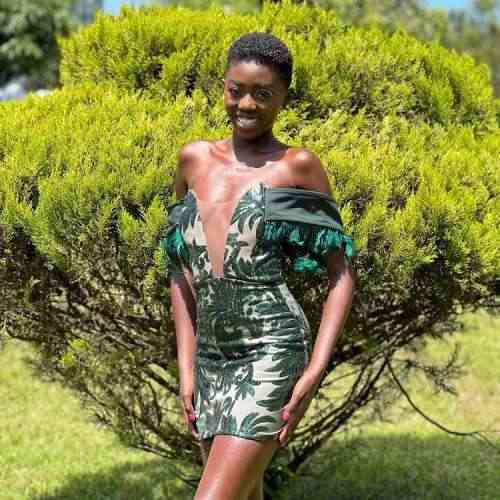 Donning beautiful body-hugging emerald green dresses that matched the theme as well as the wedding party, they were seen taking over the dance floor and gyrating what their mummy gave them to popular Luo music. It was unclear if the two were there on behalf of their mother or in support of their auntie.
The wedding ceremony followed weeks of vicious online attacks against the groom who was blasted for openly displaying affection for his bride, which they felt was unmanly.
This is not the first time the city lawyer has spent big money on love. In a past Facebook post, he shared how he was conned 500,000 in 2018 by a catfish who he planned to marry but had only dated online.
"I was in a fake relationship with this 'lady' and she conned me in excess of 500K, planned a fake wedding and nearly drove me to suicide."
The lady, one Dorcas Sarkozy, went silent after claiming to use the money for their marriage ceremony. It is however not known whether 'she' was even female in the first place because her identity remains unknown to date.
Related Topics