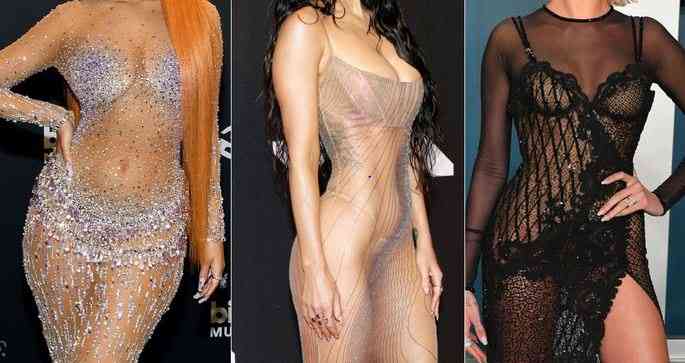 The 'naked dress' is slowly making a comeback on the fashion scene.
Although very common in international fashion shows and events, there have been a few instances where local celebrities have pulled off the 'naked dress' look.
Kenyans are modest in their approach to fashion but this is slowly changing. Popular personalities are embracing risque fashion trends in the spirit of body positivity, self-assurance, and celebrating oneself.
The New York Times reports that the exposure of body parts has been "everywhere on 'fashionland' over the last four months and has been on view for all to see on runways in New York, London, Milan and Paris."
The magazine describes the naked dress or its variations to be fashionable items that expose the side-boob, under-boob, butt cheek, butt cleft, belly button, nipples, hip bones, upper ribs, the whole sweep of the back from the skull through the spine - a veritable bounty of body parts.
VIRAL PHOTO
Early this year, a woman in a mustard dress with a high slit went viral after going out for Sunday brunch with her friends.
It was going to be another fun day enjoying the good things in life, eating, drinking and networking, for commercial model and influencer, Winnie Njenga.
The photos and clips of the young woman made rounds on social platforms, and were met with mixed reactions: admiration from fans and harsh criticism from others who thought she 'should cover up.'
The criticism was a reminder that we still have a long way to go as a people when it comes to social media vices like bullying and harassment.
Njenga declined to comment on the matter, highlighting the viral incident as one that she does not want to reflect on, "especially on paper".
Locally, only the most daring influencers have worn the 'naked dress'. Vera Sidika has been spotted in see-through and plunging numbers a couple of times, and she has not been shy about exposing some skin once in a while.
When Sidika wore a naked dress to attend singer Tanasha Donna's baby shower in 2019, she caused a stir. The conversation piece? Her sparkling, totally see-through jumpsuit with white lingerie underneath.
NOW IN KENYA
Social media sensation Amber Ray doesn't shy away from wearing see-through pieces and thigh-revealing jeans.
Known for her funny clap backs and captions on Instagram alongside gorgeous pictures of her flashy lifestyle, outfits and hair, Amber does not take put-downs from internet trolls laying down.
"Just remember, the black sheep usually turns into the goat. Keep doing you," Amber captioned a May post to her two million Instagram followers in a see-through, bedazzled bralette, flared jeans and a white coat.
But the naked dress and its variations are nothing new to the fashion community worldwide.
Celebrity style and fashion trend coverage magazine Who What Wear notes that the iconic actress and model Marilyn Monroe wore a sheer dress in 1962 when she sang Happy Birthday to then President John F Kennedy.
"In recent years, this trend has gone full glamour. Rihanna's 2014 CFDA look and Beyonce's Met Gala 2015 dress by Givenchy made headlines for being pretty naked. In 2019, Kim Kardashian West's wet-look Mugler creation ticked off the naked-dress trend box thanks to its body-con aesthetic and colour," Who What Wear reports.
The piece points out multiple twists to the naked dress trend taken on by international stars, including Zoe Kravitz, Kendall Jenner and Megan Fox.
FASHION ICON
"One of the coolest looks from the Met Gala 2021, Zoe Kravitz's Saint Laurent mesh frock is barely there, but she still manages to look super sophisticated," Who What Wear reports.
Although Diamonds singer Rihanna has gone on to make other legendary fashion and style statements through the years, her naked dress at the (Council of Fashion Designers of America) CFDA awards in 2014 remains one of her most memorable and iconic style moments.
She befittingly won the Fashion Icon Award that evening.
"We are proud to present Rihanna with the CFDA Fashion Icon Award for her impact on the industry as fashion's most exciting ambassador in recent memory," CFDA Chief Executive Steven Kolb said at the time.
The CFDA website notes that the award "is given to an individual whose style has made a significant impact on popular culture on an international stage."
The New York Times reports that fashion is used as a tool for transformation "for moulding and reshaping flesh into a new form that implies the original is not quite up to par."
"And, at the same time, it is offered as a kind of armour, to convey strength and confidence through the protective cover. The point of the new nakedness is not to provide that sort of viewing pleasure but rather a form of self-pleasure," the report noted.
The report adds that the physical reveal might be the "rawest expression of a new conversation taking place around dress and the body."
Related Topics