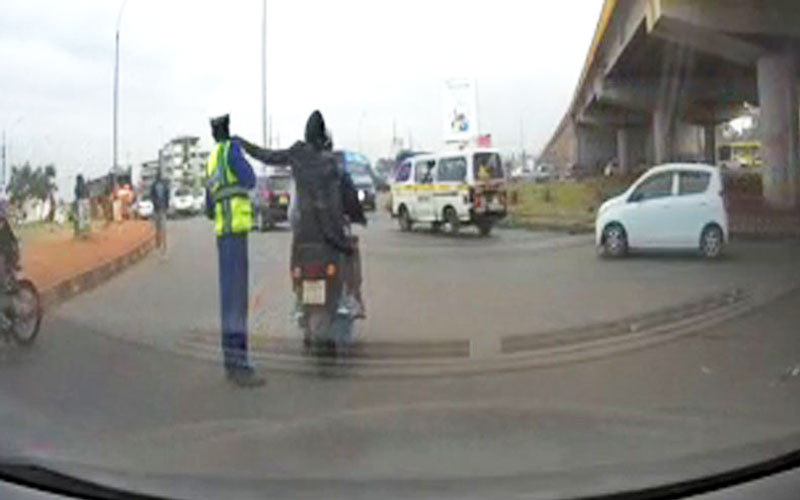 Just hours after a video of a traffic cop losing his phone to thugs on a motorbike went viral, the National Police Service has come out to question its authenticity.
Through a tweet, the police claimed that the video was manipulated and was meant to taint the image of the service.
Members of the public were urged to ignore it; never mind the number of times the video had been shared.
"Our investigations have revealed that a video circulating on social media insinuating to be of a police officer being snatched a phone is a manipulated video whose intention is malicious.
"We urge members of the public to ignore it," read the tweet by the National Police Service.
In the comments section, netizens were quick to bash the police service for attempting to save face although some saw some truth in their claims.
go tell that lie to the birds this is not edited.ukichengwa tulia.we know its embarrassing kujiandikia OB

— Elias Maina (@Mainaminor) July 7, 2021
Common factor. The video is dated 2021 but no one is wearing a mask.

— Kelvin Ireri (@255kelvin) July 7, 2021
Hio simu haikuenda lakini .watch vizuri ameishikilia karibu ianguke..

— sakki (@Izzo_hsakki) July 7, 2021
We shall ignore it, because it is something we can just do. Assume that insecurity in Nairobi isn't at its highest levels and that among many other crimes, the kidnappings happening are just people playing an advanced level of hide and seek.

— .xv (@MunduXV) July 7, 2021
????????????????????like seriously???you think we are in kindergarten

— Grace (@hnnry001) July 7, 2021
Okay fine. What about this one pic.twitter.com/JaxQSsd4fi

— Triple L (@LONEXBA) July 8, 2021
So this also is Photoshop? Manze...there is a reason crime against Kenyans won't go away soon. Those supposed to fight it deny it even when one of them gets affected. pic.twitter.com/Znkdsg5vdn

— AirBnB Plug (@Kinuthia_Lan) July 8, 2021
Related Topics