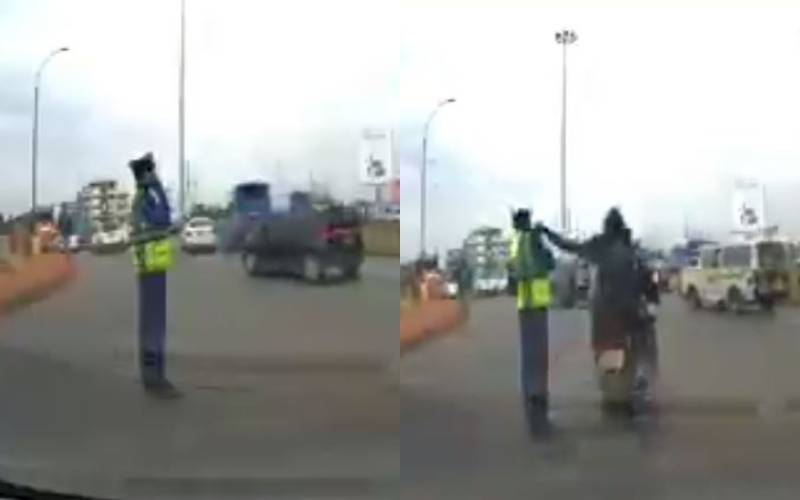 As Kenyans continue to complain about the rising cases of insecurity in Nairobi, daring thugs on a motorbike were captured on camera stealing from a traffic police officer.
In a video that has since gone viral, the traffic police officer is seen using his phone near the Roysambu roundabout.
Seconds later, three men on a motorbike pass by, and one of them is seen grabbing the unsuspecting officer's phone.
The traffic officer then ducks and is seen moving towards another road user, seemingly explaining what has just befallen him.
10:47 Pwagu kapata pwaguzi. Karibu Kanairo. ???????????????? @NPSOfficial_KE that is hw Kenya's feel when your officers ROB US. pic.twitter.com/iqLwcNdqHi via @Wouci

— Ma3Route (@Ma3Route) July 7, 2021
Netizens were quick to react to the video and here's what some of them had to say;
If a traffic police officer's phone can be snatched on on his ear, what about my village people when they arrive in Machakos Country Bus and remove their Tecno smartphones to call relatives that they have arrived? We aren't safe anymore @IG_NPS

— MUHAMMAD ONYANGO (@Moha001_Onyango) July 7, 2021
Alaa! ???? I have seen a video of muggers on a motorbike trying to rob a traffic police officer's phone while he was on call. No one is safe in this city bana.

— O l w a l (@Cassidyolwal) July 7, 2021
Crime rate in our country so high to an extent that a phone is snatched from a traffic police officer in a broad daylight, mind you he was on call????.

— Shoghi (@Shoghi_Edavile) July 7, 2021
KANAIRO Ni kunoma sana. Thieves on board a bodabofa snatches a phone from a Traffic Police officer. pic.twitter.com/FKmU75wwSg

— Macharia Wangui Prince (@PrinceWangui) July 7, 2021
#ThievesOnBodaBoda snatched phone from traffic police officer in Nairobi Kenya. Boda Boda riders must seize from aiding thuggery. @FredMatiangi @IG_NPS @NPSOfficial_KE @DCI_Kenya must stop this archaic Boda Boda nonsense.@Kenyans, Let's condemn this @ahmednasirlaw @jayp__morgan pic.twitter.com/azPF06cdXC

— Ukambani Pundit ???????? (@Y0uthKE) July 7, 2021
The traffic police was bewildered after the phone was snatched. Ogopa Kanairo!

— Gamal Jamil (@Gamalbrb) July 7, 2021
Related Topics