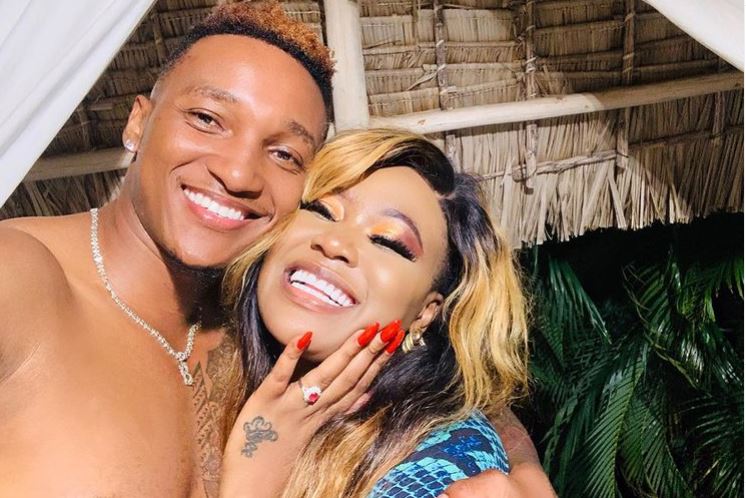 Socialite turned businesswoman Vera Sidika and her husband, singer Brown Mauzo are expecting their first child.
Announcing via social media, the overly elated Veetox founder posted an adorable video of herself embracing her growing baby bump.
"16.06.2021... An adventure is about to begin... I love you so much my husband @brownmauzo254," she wrote.
Excited fans did not waste time and flooded Vera Sidika's comments section with congratulatory messages as some welcomed her to the mothers' club.
The couple's pregnancy announcement comes roughly two months after the social media sensation took to her Instagram Live to deny fast-spreading rumours that she was expectant.
Vera lifted her top and flaunted her ever flat stomach to prove her point, convincing netizens the news was nothing but rumours.
"Those who caught the IG live, well and good, those who didn't pole, my speaker is faulty couldn't stay on live for long, was only showing my tummy. Hope all of you have facts now. There is no pregnancy anywhere. The day I get pregnant I will personally announce it here myself and post 1 million pictures. Why should I hide just because I'm pregnant?" she wrote.
However, a section of online users was convinced that the curvaceous Vera Sidika parlor CEO might have already had a child and handed the baby to her mother. She strongly refuted the claims stating that she would never hide her child or give her mother the responsibility of caring for them.
"When did I ever get pregnant to begin with? All of you are crazy. If I ever had a child he/she would be all over my IG. I love kids. I've never been pregnant in my life before. And my mum would never let that happen. Ati I live my life and leave the child with her. Why? Yet I have a house and can get up to 10 nannies if I like. There is no shame in children," she added.
Conceive with a white man!
As rumours surrounding her pregnancy continued to spread, a fan decided to give Vera their unsolicited advice on who to conceive if she wanted to have light-skinned children.
According to the fan, Vera should bear children with a white man so that her children can come out looking lighter, a suggestion that greatly infuriated the Mombasa-based socialite.
"You'll have to give birth with a white man so that your baby comes out mixed because if it is with Brown Mauzo your children will get your ancestors' skin colour and come out dark," wrote the fan.
Vera responded saying, "It is very unfortunate whenever someone writes, 'Oh your baby will be dark or he/she won't be cute because he/she will be dark. So y'all mean dark babies are not cute? It gets me sick to my damn stomach. And what is wrong with dark babies, aren't they human?"
Related Topics