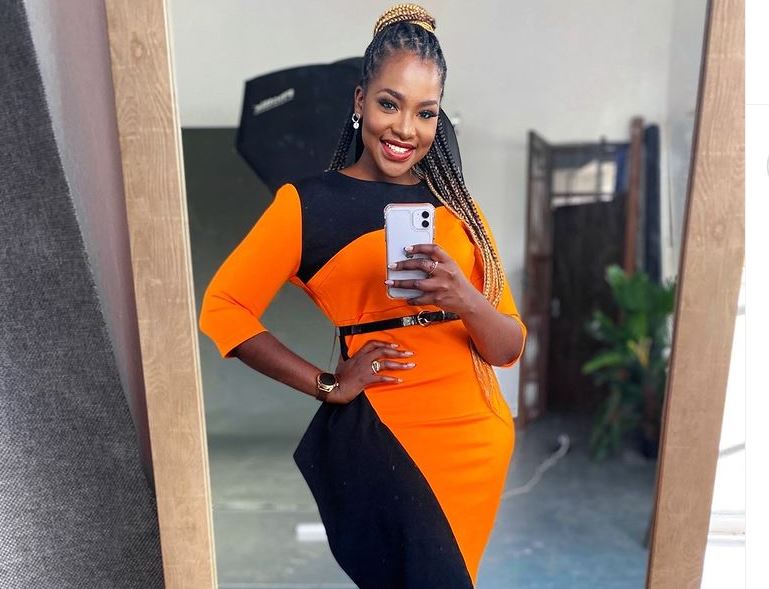 Media personality Joyce Omondi has refuted claims that she and her husband, Citizen TV senior anchor Waihiga Mwaura are expecting their first child.
This comes after the former Full Circle show host posted a picture of herself on social media rocking a red ruched dress that gave the illusion that she had a bump.
No sooner had she posted the picture than her fans flooded her comments section with congratulatory messages.
Responding to the numerous messages, Joyce stated that people saw their own things because of her dress' design. She, however, thanked everyone for the love and support shown, adding that she was waiting on God's timing.
"So it seems the ruching at the waist of the dress in my latest post has people seeing their own things. God's timing will be best. Thank you for all the love nonetheless," wrote Joyce.
Although disappointed by the news of her not being pregnant, Joyce's fans have vowed to stand with her in prayer and God to bless them with a child.
A user by the name Gacerikamum commented saying, "Everyone is really praying for you... The pose gave everyone on comment section a totally different idea. May God meet you soonest Joyce. You rock girl."
Joyce replied by admitting that she was taken aback by the congratulatory messages on her page and had no clue why everyone would be applauding her.
"Stop wondering why must congratulate you in advance because we believe and have faith that good news is on the way," wrote another user by the name Bennewfurnituredesign.
Marriage
The celebrity couple tied the knot five years ago at a colourful private wedding at the Sawela Lodge in Naivasha.
Speaking during a previous interview with Salon Magazine, the couple who had been working in the same company at the time revealed that nobody knew of their relationship as they kept it secret until they got married.
"We keep to ourselves and rarely post about each other apart from special occasions. Anything precious is best kept hidden, and that has been our policy. We decided to be very private about our relationship from the beginning. Many people, including our colleagues, did not know that we were dating until we got married," said the couple.
Sharing tips on how they keep their love alive, the two love birds admitted to prioritizing each other's feelings and spending quality time together. Above all, they include God in everything about their relationship, which has given them direction and discernment.
"Putting each other first, spending quality time together, being quick to say sorry, appreciating one another and allowing each other to be vulnerable about their feelings and anxieties.
"It's by Grace that we have come this far. He knows us best and we know that he brought us together for a reason."
Related Topics