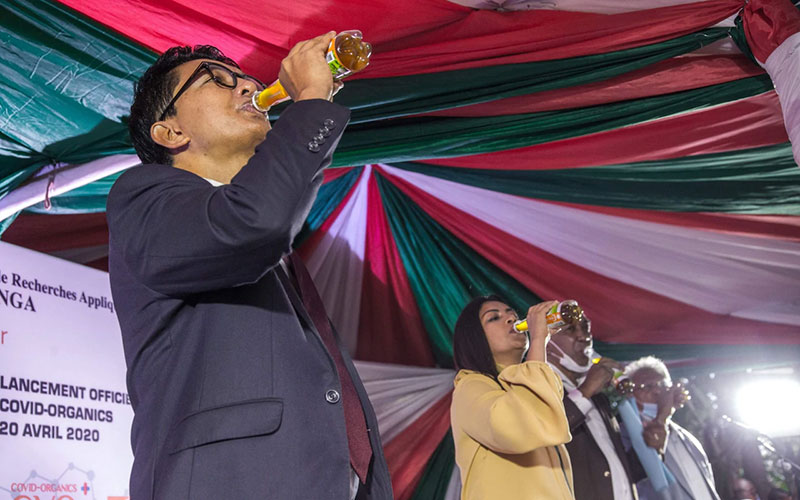 Madagascar President Andry Rajoelina has changed his earlier stand that his country's purported COVID-19 remedy will be administered through injections. Rajoelina had said that his country will test an injectable version of the herbal tea, attracting widespread criticism.
Rajoelina's controversial statement has been clarified by Madagascar's director of judicial studies department, Michelle Sahondrarimalala. She said that the president had been misunderstood regarding the administration of the purported remedy which Telegraph reports is made of traditional herbs including Artemisia and anti-malaria wormwood.
She said that at no point had the scientific committee considered putting the herbal tea, which Rajoeline claims cures and prevents COVID-19, in an injectable form.
'COVID-Organics'
President Rajoelina launched the purported remedy christened 'COVID-Organics' last month after development by the Madagascar Institute of Applied Research. However, Madagascar's National Academy of Medicine quickly responded saying the remedy was untested and potentially harmful.
"It is a drug whose scientific evidence has not yet been established, and which risks damaging the health of the population, in particular, that of children," the statement read.
READ ALSO: Magufuli's misleading statement on COVID-19 that could cost lives
The World Health Organisation (WHO) also issued a warning saying the cure could give people a dangerous false sense of security. ECOWAS and Africa CDC also issued warnings regarding the herbal tea. On May 11, Rajoelina launched a scathing attack at those speaking against his country's purported COVID-19 cure.
"If it weren't Madagascar, but a European country that had discovered the remedy COVID-Organics, would there be so many doubts? I do not think so…"
"We say bad things about the Tambavy CVO product when it only does good. They want to slow us down, discourage us, forbid us to move forward …"
Talks with WHO
Ten days later on May 21, Rajeolina said Madagascar will sign a confidentiality clause with WHO on the formulation of COVID-Organics.
READ ALSO: Trump distances himself as hundreds call on ingesting disinfectant
"Successful exchange with Dr Tedros who commends Madagascar's efforts in the fight against COVID-19," he posted on Twitter.
WHO boss Tedros Adhanom Ghabreyesus confirmed the call, tweeting "Good call with HE Rajoelina, President of Madagascar, about the #COVID19 situation in his country.
"We discussed how to work together on therapeutics research and development. And we agreed that solidarity is key to fighting the pandemic and keeping the world safe."
Exporting remedy
Soon after the launch of 'COVID-Organics', Rajoelina's government launched a major international marketing push. Telegraph reports, the country donated or sold crates of COVID-Organics to over 20 African and Caribbean nations. On May 13, Tanzanian President John Magufuli announced that he will dispatch a plane to Madagascar to get the herbal treatment.
"I have communicated with Madagascar and they already have written a letter saying they have COVID-19 treatment. We will send a plane to bring the drugs so that Tanzanians can also benefit," Magufuli said in a television address.
Related Topics