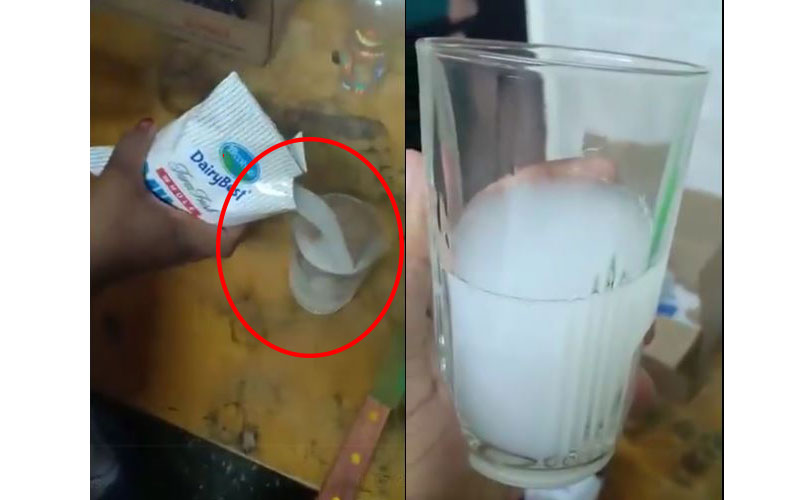 A milk processing company has been trending on the interwebs after a customer shared a video that has now become viral on Twitter.
The video was shared by @blakaende2 on Monday, May 27. She is seen opening a packet of milk and pouring its contents in a glass. Instead of creamy white milk, she was shocked to find a watery liquid.
The person on the video picks other packets from the box and proceeds to open other packets with the same results.
She then proceeds to Twitter where she shares her experience with users.
"But why Brookside? Why?" @blakaende2 captioned the photo.
After the video was posted, a Twitter account @BrooksideLtd responded and promised to look into the matter.
READ ALSO: Chicken Inn apologizes to customer over shock discovery in chips
"We deeply apologize for this experience and we would like to investigate how this happened. Kindly DM us where you bought the carton of Dairy Best, the date of purchase, your location and contact details (i.e your name, phone number & email address), the account responded.
BUT WHY BROOKSIDE? WHY?? pic.twitter.com/oGshnAiWuI

— MR. BLAK® (@blakaende2) May 27, 2019
Following the Twitter uproar, another Twitter user came out and shared a similar story. According to screenshots of messages between Twitter user Kevin Wambugu and @BrooksideLtd, he claimed to have bought a box of milk in January, only to find it "sticky and smelly."
On 14 January, @BrooksideLtd promised to get in touch to no avail.
@BrooksideLtd pic.twitter.com/F9jcKBZTFD

— kevin wambugu (@wambugu_kevin) May 27, 2019
However, the SDE desk has since learnt that the Twitter account may not be run by Brookside Ltd. Could it be a case of rivalry or counterfeit products?
Related Topics