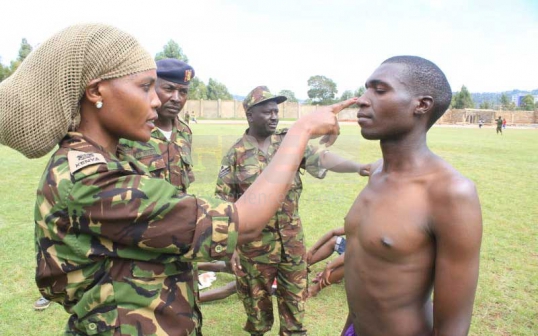 A potential recruit was kicked out on the first week of the ongoing recruitment by the recruiting officer in Nyeri's Chaka centre for having ringworms.
Curious journalists wanted to know how ringworms would stop the poor fellow from serving his nation. "The ring worms would spread easily in the barracks," the officer answered but could not expound or take more questions from civilians (journalists).
The failed recruit was lucky to get the answer because thousands others are never told why the condition which led to their being turned away would affect their service in the uniformed force.
They are simply thrown out for reasons that range from anything to having a light complexion. Pull out a random KDF group photo and point out a light-skinned fellow if in doubt.
"It is not by accident that we have dark-complexioned soldiers in the barracks. On average, light-skinned folks happen to be softies and when in battle fields they become easy silhouette (identifiable target) because of their 'reflective' nature," reveals our source.
The complexion goes hand in hand with skin texture, we were told. Woe unto those who have been wooed by the ever present skin-lightening and softening lotion advertisements. You may be the envy of those who seek soft, smooth skins, but the defence force is not for you.
That said, body scars can only be advantageous to a degree according to our source.
"We kick out those with multiple scars because they could be criminal survivors of mob injustice, a few scars to show struggle as a 'born soldier' are in order. The soft-skinned can go sell insurance policies or become executives in the blue chip companies," the source jokes.
You may also be 'politely' requested to seek you luck elsewhere referred to seek for other jobs if you are a slacker or possess a 'short fuse'.
"Looks, appearance and conduct are another tool we use to gauge potential recruits to define their attitude towards work and measure their loyalty. We throw questions during the aptitude test to single out crackpots who cannot fit in a closed door policy work environment like the military. We also shout and point fingers in the potential recruits' faces to check out their patience. Those who show a 'rude' face cannot take commands and are best suited for other industries," our source explains.
He adds that it is tougher for ladies who are good at concealing feelings at the aptitude test and during medical tests where recruiting masters retort to pressing their tummies hard to check for pregnancy.
Yet if you imagined ladies undergo "unfair" treatment at the medical stage then you haven't heard of the experience of young men who are first stripped naked for similar checks.
"We, literally, check whether the men have the two testicles by touching. We ask them to urinate in a test tube in front of a medical team panel where cowards who can't stand it fail to urinate because of tension and are kicked out. Those who remain behind are given rear examination to ensure that no recruit with 'queer habits' sets foot in a military camp," our source says with finality.
There are other bits like attending the servicemen recruitment when you have attained a university grade yet the cut off for being recruited as a serviceman is a D plain. You will be practically exorcised with your grade B+ from the recruitment field like a demon for "spoiling for others with humble C and D grades."
You will be advised to apply for a cadet officer or better still go to university for other courses. Curl kit hair, painted or manicured nails also fancy hair style like "mohawk" or "afro" for men are a big 'no'.
Not forgetting chubby cheeks and round butts.
"Chubby cheeks are for 'sausage boys' yet we want a man who can survive in the thicket on herbs and wild fruits," our source explains in Swahili.
"Round butts go hand in hand with a soft upbringing and people with the kind of behind spoil military drills, we choose hardened boys with block butts that is why sportsmen who play football, rugby, boxing and the like easily land slots in the forces."
And if you think that running and being number one in those races recruits undergo before medical tests is a plus, think again. One such runner in a past Butere recruitment was sent away for being number one with the rider: "Wewe inaonekana unatumia bangi, potea!(Go away, it seems you are high on bhang)."
So aggrieving can the KDF standards be that it was not surprising when a Nyeri potential recruit dismissed last month at the final (medical) recruitment stage poured verbal threats at KDF officers in charge. Hosea Ng'ang'a inquired, loudly, from the officers as to the physical location of an Al-Shaabab recruitment centre so that he could try his luck there as a recruit.
Crazy Monday has not established whether the young man merely wanted to spite the officers for locking him out of a dream job. We hope the puzzle was be solved in a police station, where Nga'ng'a was escorted to be questioned on his utterance.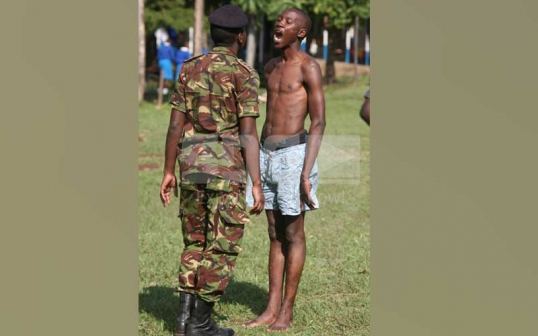 Ng'ang'a is not alone, previously we have seen aggrieved youth go physical on recruiting officers they felt bore the greatest responsibility of killing their dreams of serving in the forces. In certain areas youth give the exercise a wide berth because of the hidden physical and mental requirements.
Last year, for instance, few turned up for the drive in Embu compared to other centres in the country. Even then, many left disappointed after being turned away for having brown teeth.
More condescending perhaps was a recruiting officer's dismissive suggestion that: "KDF will conduct a medical research to establish why youths within this region have dental problems- whether it is due to chlorinated water or miraa."
They of course knew that having all teeth - a standard Alexander the Great used to recruit his soldiers - applied in KDF and was enough, nothing on teeth colour especially in a place like Meru or even Naivasha. Sadly there is no formal appeal for aggrieved candidates, you simply walk away and return next time, if your age allows.
But in what appeared to be a ray of hope, a Kenya Air Force lieutenant in the ongoing recruitment assured that the said standards don't apply in marginalised areas or where the academic standards are needed more.
"One thing that makes us apply the measures is the massive turnout of youth for the job. We could be in want of ten recruits but four hundred come with high expectations. We usually tone down on the standards when we want specialists in certain field like engineering, religion, aviation and the like yet the only potential recruits have 'anomalies' like brown teeth or very soft skin."
The forces' standards have a soft heart too. Last year in Nyamira an orphan TwabTwabe who showed a certificate to prove his parents had passed on was selected among many on the said account. In 2014, the first ever girl of the minority Ogiek and Ndorobo forest evictees, Violah Jepkirui, was recruited at Nandi-Hills Academy in Nandi.
Yes, there is also the debatable "bribery standard". "The public are welcome to report misdeeds/ interference in the recruitment process through 0726419706," tweeted KDF when vice Chief of Defence Forces Lt Gen Joseph Kasaon launched this year's recruitment exercise.
The standards never end at the recruitment centres but pursue successful recruits until they leave the Eldoret recruit training school after months of hard training. In 2016 October about 55 recruits who had reported for training at RTS in Moi Barracks were escorted to Eldoret police station for possessing fake calling letters.
"In our team, two were kicked out from RTS for testing HIV positive at the gate. Through our training, pregnancies were frequently tested on female candidates and there was a recruit who was excommunicated on the 26th prior to our passing out parade on the 28th," a KDF service man at one of the barracks told Crazy Monday.
So next time you or your relative goes for a recruitment, make sure you are "physically and mentally fit in accordance with KDF standards".
Related Topics