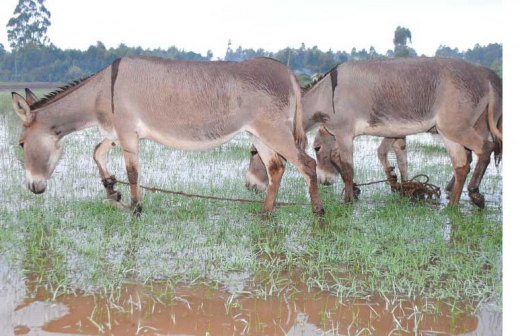 An 'innocent" stroll by a donkey and its colt into a neighbour's yard has degenerated into a vicious legal tussle that has run for over six years.
The walk by the beast of burden triggered what at the time appeared to be a minor dispute between the neighbours that could have been resolved amicably for good good-neighbourliness's sake in 2011.
However, this has escalated to a fight that is now in the Court of Appeal, which has cost both parties about Sh500,000.
On August 19, 2011, Christine Wambua's donkey and its foal walked out of Wambua's compound in Mathiku village, Kitui County, into a compound shared by two brothers; Stephen Mbuthi and Mwangangi Mbuthi.
The animals did not return in the evening, prompting Wambua to start searching for them. The following morning, the woman learnt that they had been spotted in the neighbours' compound.
She went to the homestead to request that the two men release the animals but they declined.
The brothers told her that they were holding the animals for trespassing into their compound.
After a spell of fruitless pleading, Wambua reported the matter to the local chief and her two neighbours eventually ended up in court with the offence of stealing stock contrary to 278 of the penal code.
They denied stealing the the donkeys worth Sh12,000.
After a full hearing, the Magistrates Court in Mwingi acquitted the brothers.
But the war between the neighbours did not end there.
The brothers hit back with a civil case. They sought damages for malicious prosecution and false imprisonment. However, the Magistrates Court dismissed their suit in 2014.
The men filed an appeal before High Court judge George Ndulu.
This time the wheels of justice turned in their favour as the judge on July 28 last year ordered that they should be paid Sh100,000 for malicious prosecution, the costs of the appeal and of the case which had been filed before the magistrate's court.
Wambua rushed to the Court of Appeal before Justices Wanjiru Karanja, Martha Koome and Sankale Ole Kantai complaining that she did nothing wrong by reporting her neighbours for holding her donkeys.
"The applicant (Wambua) merely reported her missing animals were found in the compound of the respondents. The learned judge misapprehended the evidence that was uncontroverted, that was the fact that the respondents refused to release the animals and therefore the appellant had no choice but to report the matter to the law enforcement agencies," the judges were told.
"For that reason, there was no malice, actual or apparent that could have been imputed on the part of the applicant."
The donkey owner argued she could not raise the fine and that there was high probability she could be committed to civil jail for not obeying court orders. She was ordered to file a record of appeal in 90 days
Related Topics