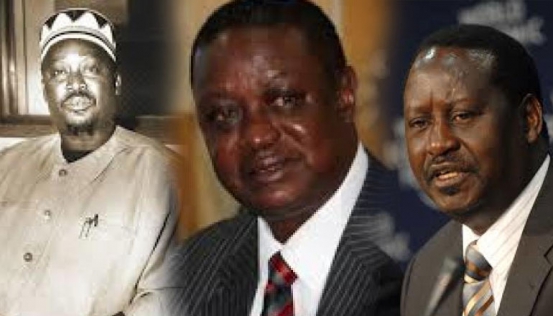 President Uhuru Kenyatta omitted Jaramogi Oginga Odinga's name among Kenya's heroes during this year's Mashujaa Day got tongues wagging. Jaramogi's role in the history of Kenya's opposition politics in Mzee Jomo Kenyatta's government and subsequent crusading for the Second Liberation during Daniel Moi's single party regime cannot be gainsaid, as is the role of his children, most notable, Raila Odinga.
Jaramogi Oginga Odinga: The Vice President of Kanu advocated for a delay of Kenya's independence until Uhuru's dad, Kenyatta 1, was released from prison in the 1960s.
Though Kenyatta 1 rewarded the alumnus of Makerere with the Vice Presidency, Jaramogi's socialist leanings became his political waterloo; leaving government to form Kenya People's Union in 1966 signaling the start of the longest sojourn in political Siberia. His party was labelled illegal, members, including Jaramogi detained in 1969.
Though he was released in 1971, Jaramogi was never permitted to run for elective office, in effect, confining his community to the political periphery with his family's dalliance with plotters of the 1982 abortive coup only making detention a tool of political deterrent until the onset of political pluralism in 1991.
He missed the presidency in the 1992 general election and died at 83 two years later, a presidential dream differed. The man after whom a university is named, had four wives (one 'ran way' and remarried) and 18 children the most famous being first wife, Mary Juma's, among them the following.
Dr Oburu Odinga: The alumnus of Maranda High, Soviet Secondary School and People's Friendship University of Russia (Bsc., Msc., and PhD, economics) is a former Assistant Finance Minister, Bondo MP is a nominated Senator. The one-time Kisumu Councilor also served as an economist, Ministry of Planning. He is a director of the family gas cylinder firm, East Africa Spectre.
Raila Odinga: Former Prime Minister and perennial presidential contender and current leader of ODM. 'Baba', an alumnus of Maranda High, (then East) Germany's Herder Institut and Technical School, Magdeburg (Msc. Engineering) is one of the veritable cogs in the wheels of Kenya's democratization and for which he suffered detention.
The founder of East Africa Spectre in 1971 was an engineering lecturer at the University of Nairobi where he met his future wife, Ida, and with whom he has four children; the late Fidel, Rosemary, Raila Jr and Winnie.
Dr Wenwa Odinga: The alumnus of Martin-Luther University, Germany is Professor of Organic Chemistry, University of Nairobi, is the Kenya Consul General in Los Angeles.
Ruth Odinga: The Kisumu deputy governor is chair, Kenya Women Governors Association.
Related Topics