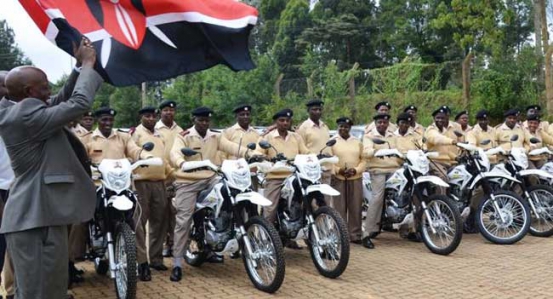 Earlier this month, an assistant chief in Embu County was slashed to death in the presence of his 14-year-old son.
Laurence Mbogo of Kiamiu sub location was killed at night by three attackers who dragged him from his house. The son, John Mwenda, sustained serious injuries.
In August 2015, a senior chief was hacked to death in Ossen, Baringo County while leading a crackdown against illicit brew. Jeremiah Chepkwony was slashed severally in the neck by an assailant who had volunteered to accompany him and other local administrators to destroy several litres of chang'aa.
And in May 2014, Ezekiel Karanja, the Chief of Kasarani location in Elburgon was beaten senseless by marauding youth who accused him of inciting locals to storm their favourite chang'aa dens. Chief Karanja was alone when the assailants pounced on him. He sustained deep cuts on his forehead and hands, prompting area MCA Florence Wambui to appeal to the government to provide chiefs with security when conducting raids.
Chiefs and assistant chiefs play the roles of peacemakers, mediators, negotiators and law enforcers, all rolled into one. However, they remain vulnerable to harm due to the 2010 Constitution which whittled down their powers. The local administrators work at the mercy of Administration Police (AP) officers, as opposed to the past when the Chief's Act gave them immense powers. Before the promulgation of the Constitution in 2010, chiefs summoned AP officers to accompany them to all assignments. Currently, the grassroot administrators work without the security back-up necessary when conducting raids, gathering intelligence, responding to distress calls or pursuing bandits, rustlers and robbers. When not in the field, chiefs also listen to spousal, inheritance, funeral, school fees, land, boundary, witchcraft and night running disputes.
"Recently, a colleague was stabbed as he pursued a suspected thief. This job is risky, we deserve to be armed or provided with security. At home, it is very easy to be attacked," says Wilson Were, the assistant chief of Lower Kakwajuok sub-location in Rachuonyo North sub-county. Were who is pursuing a bachelor's degree in Public Administration and Management at Bugema University, Uganda, believes they have been misunderstood. He insists they are not corrupt, but invest prudently through loans, businesses and farming. Before granting this interview, the chief had just attended to Eric Ochieng Odera whose house was submerged in water following a heavy downpour. Odera, a father of four, wanted to be linked to a disaster response agency for assistance.
Assistant chief Asman Namusia of Kasarani sub-location says they are always overwhelmed with phone calls even during odd hours. "We are woken up late at night by phone calls from those seeking help. In fact, if your spouse is not understanding, being woken up at such odd hours can strain the marriage. It is not easy for wananchi to obtain the mobile number of the OCPD or OCS, but it is easy to have access to the number of their chief or assistant chief," says the chief who serves 15 clients a day.
At the communal level, the administrators are expected by the government to spearhead health security, political security, policing security, social security, environmental security, food security and economic security campaigns. "In a nutshell, the chief is in charge of all national functions, since he or she handles all issues touching on all government ministries," notes Namusia, echoing Were's sentiments that some of them risk their lives going after dangerous and armed criminals.
Many Kenyans hate provincial administrators due to the colonial background of their positions. Chiefs, for instance, were the eyes and ears of the colonialists. They enforced tax collection while enjoying privileges inaccessible to the common man. "Those who are opposed to the institution of chiefs in Africa and in Kenya particularly, argue that many chiefs are a burden to their people, bossy, corrupt, autocratic, dictatorial, tyrannical, authoritarian and antithetical to democracy as it is understood today," observes Joseph Kipkoech, an expert in international affairs, history, media and politics.
In urban areas, some chiefs are rich courtesy of unscrupulous deals. In rural areas, some chiefs have been caught protecting brewers and cattle rustlers in return for kickbacks. A study by the Development Studies Institute found out that chiefs, despite not having the jurisdiction, allocated public or private unclaimed land in slums to moneyed individuals and organisations. "The analysis shows that political patronage in the public allocation of land in Nairobi effectively benefits a group of affluent, well-connected agents. The land allocation process consolidates their economic power as well as the political power of public officials," reads the 2009 research titled, No Business Like Slum Business? The Political Economy of the Continued Existence of Slums.
Senior Chief Humphrey Mbai of Roysambu location defended colleagues against corruption and abuse of office allegations, arguing that their powers have long been clipped. "There are a few who have managed to build their own homes to avoid paying rent. They should be encouraged and lauded instead of being condemned. These corruption allegations are far-fetched as we are living within our means while working as per the law," said Mbai.
The chiefs who spoke on condition of anonymity dismissed the notion that they are extremely rich despite earning peanuts. They said they were ready for lifestyle audits, with some revealing that they come from rich backgrounds. Others claimed they made their wealth before joining the provincial administration.
Chief Minicah Hamisi Otieno said the current calibre of administrators is highly trained, informed and therefore not vulnerable to corruption. The Mihang'o location chief engages residents through social media where they raise issues and offer vital information. On average, 20 people visit her office daily. "I speak for myself when I say that I have never been accused of receiving bribes or being corrupt. The people I serve can attest to this," says the Maasai Mara University student finalising a bachelor's degree in Political Science and Public Administration course.
The administrators believe that they are the most reliable source and base of intelligence, courtesy of their interactions at the grassroot. When not chasing chang'aa brewers, chiefs vet applicants for social groups, confirm deaths, issue funeral gathering permits, monitor school-going children, attend burials, respond to outbreaks and disasters, among other duties.
Ouma Nyakacha, the Pangani location chief cautioned against linking them to corruption, saying most of them were poor. "Who doesn't know the consequences of corruption? We work hard to ensure the government is functioning. We want our country to be safe and free of criminals and terrorists," he adds.
Related Topics