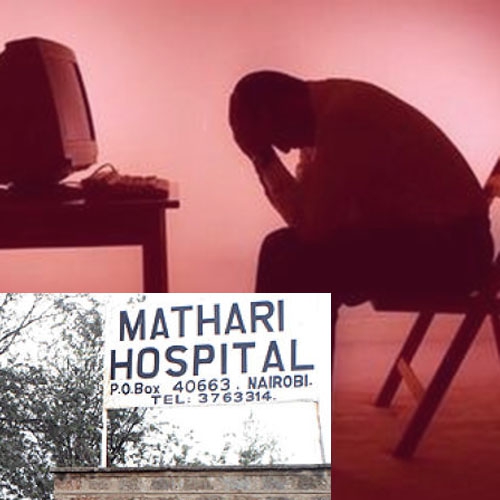 Nearly 400,000 Kenyans will be schizophrenic in the next five years if the rising rate of mental illness, coupled with severe shortage of specialised doctors to manage the ailment goes on unchecked.
Psychiatrists warn that the problem is escalating at an alarming rate and that by the year 2020, about 1 per cent of the population will be suffering from schizophrenia, which is a chronic form of mental disorder.
Dr Lukoye Atwoli, a psychiatrist and senior lecturer at Moi University, describes the state of affairs thus: "The situation is worse than it appears. The figures we have currently are estimates and we are probably underestimating the situation."
He says incidents of mental illness in the country is high and continues to rise due to the explosion of urbanisation, soaring poverty and other social setbacks.
Poor mental health is increasingly becoming a major issue in urban areas in developing countries, especially in the slums, mainly due to rampant poverty and the high prevalence of drug abuse.
"At the moment, about 10 to 15 percent (between 4 and 6 million) of Kenya's population suffers from common mental disorders, such as depression and anxiety" says Dr Atwoli.
Studies show that one in four patients in Kenya visiting a primary health facility suffers from mental disorder.
The Director of Mental Health in the Ministry of Health, Dr David Kiima, confirms that the situation is dire. "We are thus asking for an integrated health system, so that we can improve the percentage of funding to mental health," says Kiima.
The gloomy outlook is made worse by increased cases of mentally ill people as a result of substance-abuse related disorders,particularly alcohol and drug abuse. Others suffer as a result of social conflicts and violent aftermaths.
"There have been increased cases of post-traumatic stress disorder, depression, substance abuse and other mental disorders reported among internally displaced Kenyans. Unfortunately, such cases remain largely unaddressed," observes Dr Kiima.
Failure by the government to invest more in mental health and in line with socio-economic development, has contributed to the upsurge in cases of mental illnesses and suicides.
Kenya Psychiatrist Association chairman, Dr Simon Njuguna, says Kenyans have not been able to connect with social issues and development in society. This, he says, has aggravated incidents of illnesses.
"Social problems which are aspect of mental health have not been addressed sufficiently. This is why people are committing suicides and as well as murders. We need to engage and educate policy makers and stakeholders on the importance of focusing on this area" says Dr Njuguna.
The situation is even worse for Kenyans in the Diaspora, leading to cases of murders and suicides.
Cases have been reported of husbands killing their spouses and children before committing suicide. Dr Atwoli says there are high expectations and pressure on people living in the Diaspora which leads to mental cases, especially as a result of shattered dreams and aspirations.
"Those people are predisposed to develop mental health problems especially when they perceive they have not accomplished expectations back home or in the family setting. There is too much pressure living out there," says Dr Atwoli.
Related Topics