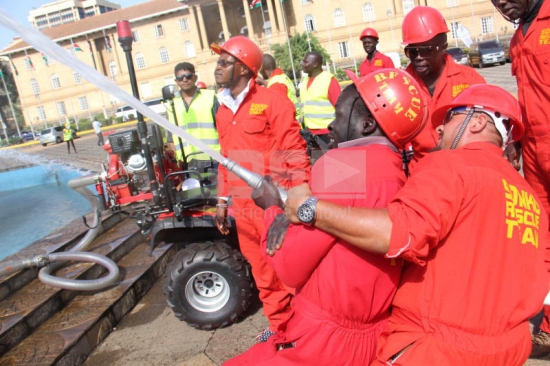 Questions are being asked about Senator Mike Sonko's seemingly inexhaustible wealth and philanthropy.
Of particular interest is the Sonko Rescue Team, which offers free towing services to motorists who are too drunk to drive; ambulances that freely respond to medical emergencies; a fleet of SUVs that carrying out security patrols, small fire engines for reaching inaccessible area in cases of fires, as well as free wedding limousines.
Many are silently questioning his source of wealth to fund the Sonko Rescue Team initiative, since the senator is not known to have a multimillion shilling business empire.
Nairobi Governor Evans Kidero claims that some individuals are using proceeds from drug deals to fund social welfare projects.
"We know that various individuals have been mentioned as drug traffickers. Nobody is asking where the money they are using is coming from. We know that in places such as Colombia, drug cartels attempt to get into positions of authority by using their money to provide services that local authorities are able to provide," claims Kidero.
Sonko meanwhile claims that he gets support from many of his friends who are happy with his work and share his vision to improve the living conditions of the poor and disadvantaged.
"I started making money from the real estate way back as a high school student. My real estate interests have good returns and I don't mind sharing with the less fortunate. I was involved in charity even before I was elected as a member of parliament. It is the reason the people persuaded me to run for an elective position," says Sonko.
Sonko says the rescue team is at the disposal of all Nairobi residents and those wishing to for instance transport the bodies of their loved ones only have to fuel the hearses and pay the crew some allowance.
"But if they are not able to make the token payments, we'll fully meet the costs. Recently, I got a call from Lang'ata Sub-County Commissioner seeking our help following a fire outbreak in Kibra slums. We responded and helped," he states.
The senator noted that the Kenya Red Cross Society has agreed to partner with him by training 10,000 of his staff at a weekly fee of Sh2,000 per person. Express Kenya Limited and Grain Bulk Handlers have also shown interest in his work, he reveals.
"I will continue rendering services to the people who voted for me regardless of their background, religion or ethnicity. I will continue helping my people because of the love they have showed me and I will not be deterred by those who are claiming that I am showing off," he vows.
Related Topics