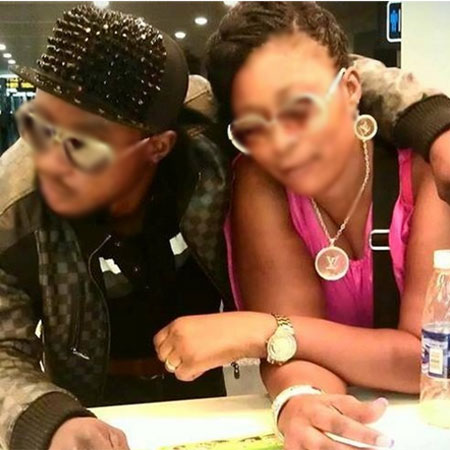 A young man having good time with 'sugar mummy'
Photo: Courtesy
By Brian Okoth (@brianokoth2)
You look fashioned, privileged and take pride in sleeping with women of eminent rank and large fortunes in society. These women are hot, and have literally refused to grow old. Your economic vulnerabilities and other ulterior motives have led you to sexual imprisonment. A cage you don't want to come out of; a cage of convenience, fashion and conformity with peers.
Wake up! 'Mwanaume ni effort'!
You want to be considered for your car, cell phone, cash and clothes (4 Cs) in exchange of letting older women gain sexual access and control over you.
I am talking about sugar mummies. In Ghana, Cameroon and Swaziland they are referred to as 'sponsors'.
The basic concept behind sugar mummies; they match your sexual dynamism. Women reach their sexual peak much later than a man. A forty-something woman would match up pretty well in bed with you young 'guru'; on a good day if she decides, you would run from the room leaving behind your briefs I tell you! Young men often think that they win, and the older women lose!
Sad; young men lose more! Forget about sucking her purse dry and the occasional sexual romps. Think about the following:
When her husband finds out…
You have up to three sexual contacts weekly with her; sometimes over the weekend, and at times even in the night. These are odd hours, and she has to excuse herself from her husband and family. It gets to a point when the myriad of alibis can't work anymore, and the real man of the house would want to know where his wife goes to.
Remember, he is super rich! If the wife manages to foot your entire four-year college fees in one Monday, what of the husband?! Put short-he can hire the best of spy in this part of the Sub-Saharan to track her movements.
When the spy gets to hold a picture of you, and passes it on to the 'gentleman of chivalry', who in turn passes it on to hired goons with the perfect of riffles to 'clear the mess', you will certainly be silently eliminated. Life moves on when you are gone; don't romp older women!
When she passes over 'the disease' to you
Probably, oh sorry; certainly she lures you to high-risk sexual relations. Her preferred method of 'protection' is vaginal barriers. According to her, the word latex exists not in her 'sexopedia'. Studies show women are about three times more likely than men to be infected through sexual intercourse.
Chances are high she calls for 'amorous congresses' with other young men when you are missing in action; perhaps studying hard for end of semester exams to catch up on the time you lost when you were having 'acts of the rod' with her. Your interim 'helpers' will not use condoms too.
So, what happens when you 'resume duties' after your last paper, and one of your usurpers infected her with STD or HIV? You get it instantly; like instant coffee!
When she realizes she has contacted it, she'll think you are the master plan behind it and leave you like yesterday! You will be left to look for ARVs and feed yourself a balanced diet. Scary, right?
You can't date that gorgeous crash of yours
They say women are very possessive. Women rarely invest in men, and when one does so, she'll go to the other much possible end to ensure that you are hers alone! Your wildness in youth is a magnet to them.
She'll buy you a Mercedes Kompressor but ensure you don't compress another young woman with big derrieres in it.
You'll be envying your friends who have fresher girls that by default you can't have, lest you suffer the wrath of the boss lady! Who doesn't want fresh campus lass for crying out loud?
Love they say is the base, foundation and rock of every relationship. Love makes you fulfilled and happy. Going into a relationship with money-sucking intentions will leave you blue and heartbroken. Say no to 'sponsors'.
Love that college girlfriend of yours, dude. With her, there's possibility of walking down the aisle; sugar moms, a total waste of time!
Let forties date forties!
Related Topics