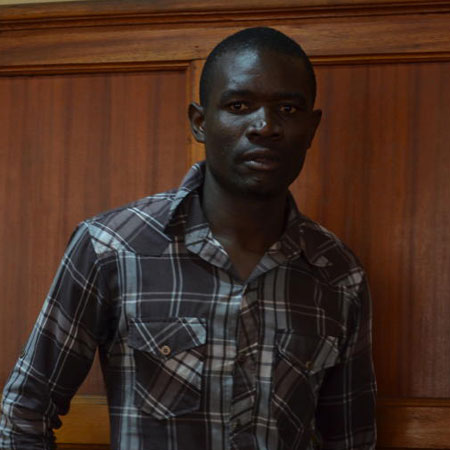 David Ochieng Osano at the Milimani Law Courts on 4/8/2014.He was charged with raping 20 years old Gladys Adhiambo Abwao at UoN hostels.He was remanded for until today 5/8/2014 to allow police complete their investigations.PHOTO.FIDELIS KABUNYI
There is an epidemic of organised rape at UoN's Main Campus. Interestingly, some of the rapists are quite familiar to their victims.
The most recent rape case involved David Osano, a personal assistant to university of Nairobi student leader, Babu Owino.
Osano was charged with sexually assaulting Gladys, a second-year medical student this August. Babu, the chair of Sonu, appeared in court to show solidarity with Osano.
Sonu's female student leaders were however missing in action, despite the union's reputation for solidarity that unites 'comrades' in times of distress.
The female student leaders have taken Glady's case to the social media with the Twitter hashtag #Justice4Gladys to drum up support for one of their own.
The face-off is playing out in the open with the menfolk resorting to Facebook, congregating on the page, 'New Comrades Forum,' to express their desire for Osano to be treated as innocent until proven otherwise by the courts.
The female student leaders charged that Osano had been suspended from campus and had not sat for any exams since 2011/2012 Academic Year.
They claimed that the last exams Osano sat for was for 'Foundations of Accounting and Introduction to Macro Economics' unit in 2012 while in second year.
According to the six girls, Osano, whom they claimed has been under suspension since 2012, lives in room F-22 at the main campus, a room officially allocated to Babu Owino. Contacted to comment on the matter, Babu just said Osano's case is in court and he couldn't talk about it. He however did not respond to our queries regarding insecurity in campus.
According to documents obtained by The Nairobian from the university, David Osano, student number D33/38664/2011, last paid Sh39, 500 as fee on February 13, 2014.
But he did not register for any course units or exams in the school of business.
Osano was released on August 12 by Nairobi resident magistrate Miriam Mugere on a Sh100, 000 cash bail. The case will come up for mentioning on August 19 and the hearing is slotted for September 4. Osano pleaded not guilty to the charges.
Six female student leaders have stood up to speak against rampant rape cases in campus. The 'UoN Six'- Linda Guantai, Abigail Njoki, Lynet Kioko, Wambui Nyutu, Purity Wangui and Jenn Masawa say victims of rape in campus don't report the cases, mostly because they happen after dates or are perpetrated by people they are familiar with.
Nafula, a fresher at UoN's Lower Kabete Campus, claims she was sexually assaulted by someone she never suspected could harm her.
The BCom student said: "He looked so harmless since he was campaigning for a political post and we had become acquaintances. I had known him for two weeks and he was a spiritual leader," recalls Nafula.
Then on March 19, he allegedly asked Nafula for her room number "just so he could visit," an idea Nafula says she was not comfortable with.
"I don't know how he knew my room number, but later on at 5pm, he knocked on my door."
The male aspirant could not stay since Nafula was with her roommate. He later returned around 9:50pm. Nafula was alone in the room. They chatted. But come sleep time, she asked him to leave.
"I switched off the lights and he stood as if to leave," says Nafula, who couldn't lock the door since her roommate was out and didn't have her keys.
"He suddenly turned, locked the door and pinned me in my bed. I was in a nightdress. I was so scared," she says.
"I struggled with him, but he was too strong for me, and he eventually forced himself on me," says Nafula, who later found a message in her phone saying he admired her, but didn't know how to express it.
"I reported the case to the security office who confirmed verified the matter with Nairobi Women's Hospital where I had sought treatment after the ordeal," says Nafula, adding that though the student was arrested, he was set free 10 days later.
Nafula, being only two months old in campus, feared victimisation and did not escalate the matter. Apparently, female students always find themselves at crossroads, since any attempt to pursue such cases turn political. It is alleged that if a victim is of a different tribe, the perpetrators claim it is a political witch hunt of 'one their own.'
Masawa told The Nairobian that many other cases had been recorded at the campus security offices. When we sought more information from the security office, it emerged that the records have been forwarded to the office of the Director of Public Prosecutions (DPP).
Besides rape cases, organised gangs are on the rise in the campus. "They control everything," says Nyutu, adding that the goons even "force students to vote in certain leaders during campus elections, yet they are not even students."
Related Topics