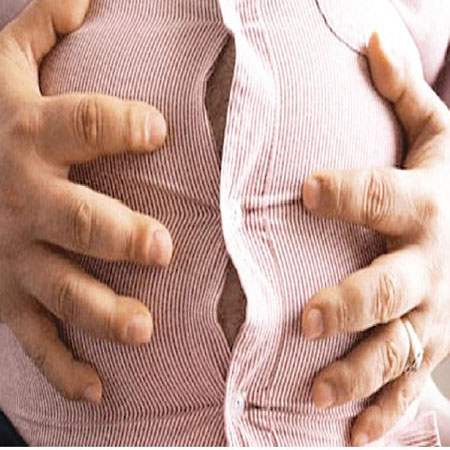 [Photo:File]
If one were to line up Kenya's top 100 successful and wealthiest male personalities, we can almost certainly say, that common denominator besides their fat bank accounts will be the size of their bellies.
I could also add that there will not be a single one in the group facing the threat of divorce because of his body weight.
As long as a man is not obese to the extent that it interferes with his mobility, a little roundness in the midsection can only help lift up a man's social profile.
Yap, life is unfair like that. Popular media continues to bombard men with images of models, professional athletes, movie stars posing in underwear with chiselled torso like that has anything to do with paying rent.
For those who make a living as male strippers, a six-pack does have its place but for most African men, contrary to showbiz opinion, more meat on the bone is what women prefer.
We are accustomed to seeing our bosses on the heavier side of weighing scale. We associate body weight with power.
fatherhood status
Newly-married men come to appreciate the value of the pot belly as a sign of prosperity that is just as important to their image as protruding hips are to a Kenyan socialite.
Men love this for there are no penalties for extra weight in marriage. In fact, straight after marriage, the average male works on his weight issues, piling up pounds and revelling in his new fatherhood status.
A man will exist in that comfort zone until somewhere in his late thirties, when he starts to attract attention from young damsels who do not seem in the least bothered by his body shape.
Young women heighten performance anxiety and men go to the gym only to boost their libidos.
Somewhere along our 21st century, under new-world-order programming, fat became a slur, a bad word.
Now mention fat, the individual in question is immediately profiled as lazy and inevitably greedy. That perception has to be fought.
bulging bellies
A little body fat is what got you noticed and I am happy to announce there are pockets in the continent where fat men are celebrated, and they do not have to be comedians.
Therefore it came as quite a pleasant surprise to discover that somewhere in the remote corners of the Omo Valley in South Ethiopia, lived a tribe of fat worshippers.
Among the Bodi minority pastoralists, men are pampered. They became something of an international photographic sensation.
A famous European photographer captured some stunning images of nude grown men, with bulging bellies, rolling love handles with not an ounce of muscle in celebration.
With that came the hordes of Western chubby chasers milking every 'exotic' and 'savage' value out of the spectacle. Among the Bodi tribe, they have a six-month fattening ritual that culminates in a celebration called the "Kael".
honour comes
An unmarried man is chosen from within the family, sent off to isolation, given a mix of cow's blood, honey and milk that has amazing fattening properties.
There is a healthy weight gain diet if you ever wanted one. In that period, a man will double his body weight.
There is a competition at the end of it all, where the chubby fellows are paraded around the village, and women come checking out their curves and the biggest and shiniest of them all is crowned the fattest champ of the season by none other than the elders.
That honour comes with a lot of glory, fame and respect. I guess the Bodi understood one thing; marriage is bad for a man's weight.
You might as well get accustomed to the fattening house.
Related Topics