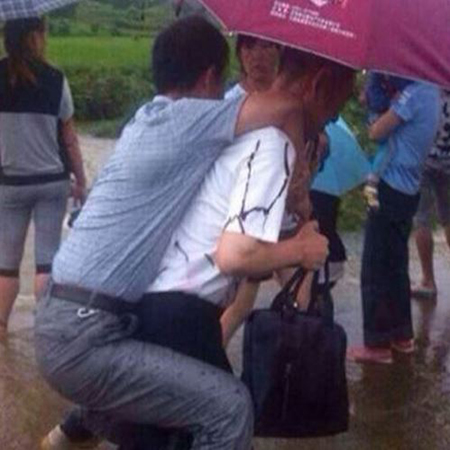 Employee carries his boss over a puddle of water
He was accused of damaging the image of the Chinese Communist party after making employee carry him like a donkey
A public official has been sacked for making a worker give him a piggyback.
The boss was accused of damaging the image of the Chinese Communist party after ordering a worker to carry him on his back over rain sodden ground - so he didn't get his shoes wet.
Wang Junhua, deputy director of the government office of Guixi city, was removed from his position for letting his subordinate carry him on his back.
He had been visiting the site of recent flooding where two students drowned, and had not bothered to wear wellies.
Instead he had selected cream coloured leather shoes, and instead of getting them wet, he had told Ding Xianbao to give him a piggyback.
Hu Peng, a local who witnessed the incident, said: "The guy looked arrogant and bored.
"It was clear that he came to the site in order to score some cheap publicity points. But when he saw that he might have to get his feet wet his real personality surfaced.
"He ordered this guy to hoist him on his shoulders and he rode him like he was a donkey. I felt sorry for the guy - he was humiliated."
Communist Party officials removed him from his post when they learned about the piggy back but denied the man had ordered the subordinate to carry him, saying that Ding had volunteered.
But they admitted it was still wrong, with one saying: "It was not within his remit to order another human being to become his drudge. This is not how things work in China.
"If he didn't want to get wet feet, he should have brought along rubber waders, not turn a worker into his personal transportation."
Source: Mirror
Related Topics