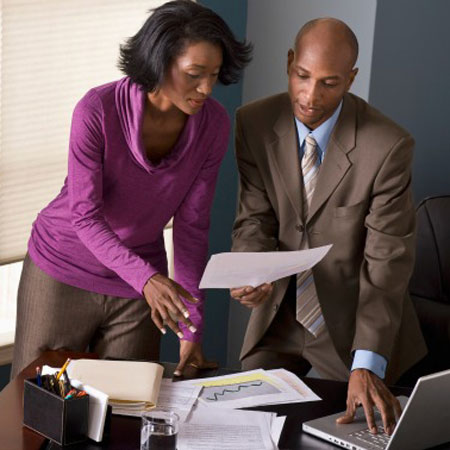 Man presenting his work to his female boss Photo:hellobeautiful.com
Over the last few days, the talk around town has been dominated by how a prominent Kenyan was allegedly fired through a text message by his female boss.
Dear friends and readers, I would not want to delve into the details of whether the allegation are true or not. At least if they were not true, knowing women, she could have come out shouting and proving that she never send the SMS. So far, she has not done so.
Nonetheless, the allegations bring to mind how some men have suffered humiliation in the hands of the female bosses.
See, it takes only a slight provocation by a man to draw the wrath of such bosses. Believe me; some powerful women derive pleasure in humiliating men.
You think I'm kidding? Not long ago, a picture of a female Cabinet Secretary, humiliating her body guard by subjecting him to carry her handbag went viral.
Surely, do you have to do that to men? Just because you have power, ma'am? Little wonder then that some men are against the idea of women ever transcending to certain powerful positions for fear of either being sat on or urinated upon!
How I wish you saw how majestic the said Cabinet Secretary was walking, like she owned the world.
To me, a woman's handbag or purse is a personal accessory that no man should even be allowed to touch. I mean, this is where some women keep all manner of strange things?
You can imagine what would happen if the poor man whom she forces to carry the big heavy 'Nitalala wapi' bag slips and falls down, leaving the content of the handbag all over the place? Picture the man running after the contents and throwing them back in the bag! Embarrassing.
Related to this kind of women are the lazy type who draw devilish thrill in hiring male house workers, whom they order around and even ask to wash their most inner clothes.
See, it is time someone told some of these kind of women to stop drawing 'primitive joy' in harassing and humiliation men.
More importantly, such types should keep in mind that the man they humiliate are other women's husbands and have families, too. More importantly, they should keep in mind that the public, and more importantly men, watch their moves. And men are never amused with such behavious.
Simply put, female bosses must learn to behave themselves. They are not the best thing to ever happen since sliced bread. We know there is fun in humiliating a man, but is it really necessary?
Related Topics