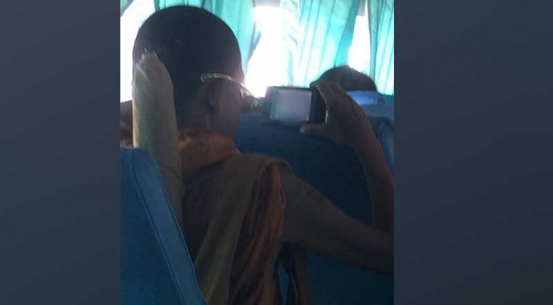 A monk has been spotted on a public bus, openly watching people having sex on his smartphone with the sound turned on.
Fellow passengers were shocked by the moaning and groaning from the porn movie that was being watched by the young man dressed in Buddhist monk robes.
He propped the phone up on the back of the seat in front of him to get better view, but it meant all around could also see the X-rated action of a woman and man having sex.
Student Wittawat Wonghajuk, 19, had been travelling on the coach at 10am on Saturday morning in Loei province, northern Thailand.
Wittawat said he began filming but after around 30 seconds the monk turned around and swiftly turned the movie off.
He said: "As soon as I turned to see it the porno clip. Two people were naked having sex.''
Wittawat, who is studying music, said he caught the bus at 10am and usually enjoys the journey home to Nong Bua Lamphu province.
But he said he was outraged at the monk so openly watching an explicit movie in front of other passengers.
Wittawat added:
"I wanted to confront him but I didn't have the courage to do that. This is a monk and I'm just a young student. But I filmed it instead so I have proof. The monk left the bus at the Wang Sapung district. I wanted to show people so they can see what happened."
Monks are highly-revered in Thailand and Wittawat's footage sparked a backlash from some users who claimed it to be staged.
Earlier this month a woman who was slapped by a monk after she confronted him for apparently spitting inside her minivan was herself fined Sh15,000 for "causing a fight".