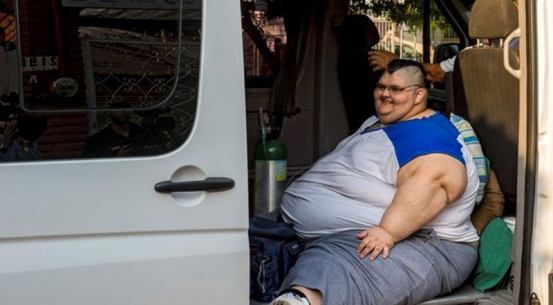 The world's fattest man is preparing for life-saving gastric bypass surgery after spending nearly seven years confined to a bed.
Juan Pedro Franco, who once weighed more than half a ton, has lost a whopping 171 Kg to go under the knife.
The 32-year-old, from Aguascalientes in Mexico, has been on a three-month diet to prepare for the operation on Tuesday.
He will go through a series of intense tests, with his blood, imaging, pulmonary and cardiac function studied by a team of doctors.
Doctors hope the surgery will help Juan walk again - after being confined to his bed for nearly seven years.
Dr Jose Antonio Castaneda Cruz said: "He has lost nearly 30 per cent of his initial weight, so he is ready to undergo the bariatric surgery."
Juan discovered in November that he was actually 95kg heavier than doctors first thought.
Doctors believed he weighed nearly 500 Kg when he was taken to hospital earlier that month for surgery.
But tests showed his true weight to be 584 kg, over 6 kg short of record-breaking compatriot Manuel Uribe who reached a peak weight of 94 stone before dying in May 2014.
Dr Cruz said at the time they would go ahead with their pre-arranged diet plan, adding: "Everything we're doing has been mapped out and if everything goes to plan in a year and a half we'll have him down to between 12 and 14 stone.
"Initially we didn't think he was going to be apt for this treatment because of his level of obesity and a lung problem he suffers, but now we're seeing a more promising horizon."
Juan's plight became world news in November last year when pictures emerged of him being transported from his home to a clinic 100 miles away in Guadalajara where he is now being treated.
He had appealed for help in July when he announced he weighed just over 60 stone, revealing he hadn't left his box room for six years and feared he would die after having to quit a special diet which his OAP parents couldn't afford.
He was chubby at school but his weight ballooned after a crippling traffic accident he suffered as a teenager which left him bed-ridden for more than a year, followed by a bout of pneumonia.
Admitting in a TV interview last year, he said he'd been ribbed over his size at school.
He said: "When I was six years old I already weighed nearly 10 stone and it's gone up and up since.
"At 17 I weighed just over 36 stone. That was when I had an accident and broke half my body and spent a year and a half in bed. I'm looking forward to going out again, driving again, singing. That's what I like doing. God willing, I'll be able to do all those things in the future."