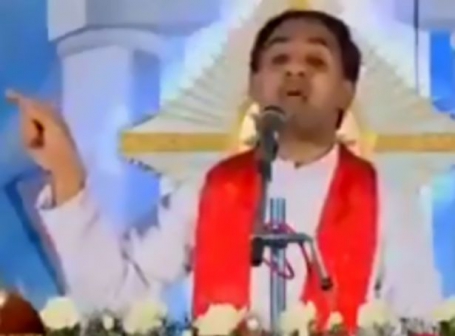 A Christian priest has called for women who wear jeans and other 'provocative' dress to be drowned for 'tempting men'.
The priest, identified only as Father Sharlom, says he does not want to give communion to girls in jeans, trousers or shirts.
He even asks, in a rhetorical flourish, whether the Bible gives permission to women to wear these types of clothes.
Father Sharlom continues to rant about how women should and shouldn't dress during the horrifying sermon in a church in the southern Indian state of Kerala.
A video of his rant was shared online by a woman named as Jasmine PK.
In the footage, Father Sharlom is shown saying: "When I go for prayer meetings in some churches, especially during the Holy Mass, I feel like leaving because of some women who I see in front of me. I feel it's better to kick them out of the church premises."
The issue of whether the Bible gives men the right to wear such clothes remains unaddressed.
He also criticises young women for showing off on social media and even refers to such women as "things".
He goes on: "After I lecture young men on the ways of God, they come to me later and tell me, 'Father, after absorbing all the knowledge you give us, we exit and are exposed to semi-naked women. We're involuntarily provoked and aroused'.
"What have the preachings taught us about this? 'It's best to tie the source of provocation down to the depths of the sea.'
"When a father or a young man has come to the church to offer themselves to the God, if you're standing beside him, having dressed provocatively enough to distract him, you're a sinner, and you deserve to be tied down to the depths of the sea.
"And then you complain that you can't find a groom or a job. Why? Thanks to the way you dress."
Fellow Kerala priest Father Paul Thellakkat from Kochi condemned his colleague.
He said: "What that preacher has said is unwarranted. No priest has the right to dictate a dress code to women. Men and women are a reflection of God and both are equal and beautiful."
The rambling six-minute video sparked fury among viewers online.
Biny Mary Chandy said: "This is just unacceptable... absolutely disgusting."
Aeirin-lisa Puthanveettil commented: "If dressing is the cause for all bad things happening to women, then why are girls in purdah and uniforms raped?"
Habel Kurien called the preacher "disgusting" and added: "I hope Pope Francis will set him right."
There are no reports that Father Sharlom has been punished or condemned by higher authorities in the Church.
It is also unclear if he is a member of the Catholic Church or of another Christian denomination