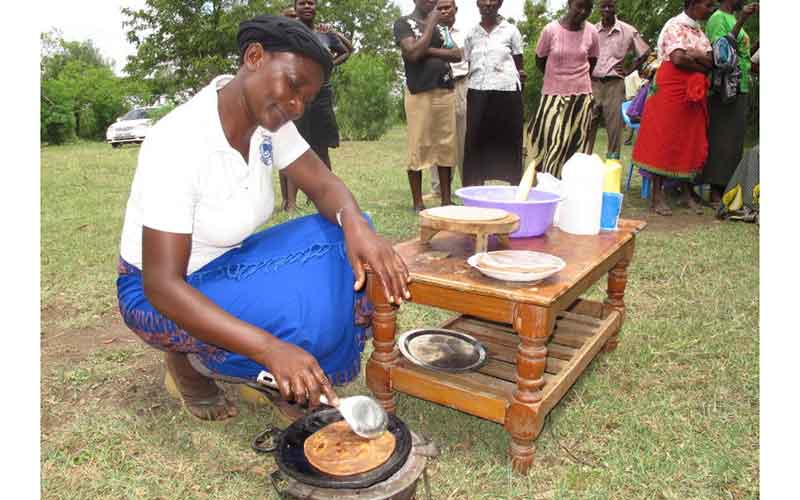 The people serving food at our wonderful low-budget parties should be given a hefty down-payment, in cash, so they can serve the food justly.
Food is the highlight of these parties, yet it is also the part where you are likely to get a raw deal.
When it's time to eat in the family Christmas party in the village, the stereotypical plump, sadist aunties in a short weave and beads of sweat on their noses will be serving.
Wageni- the guests visiting from Nairobi and other big, popular towns are usually the first ones to be served.
In fact, if you arrive in a car and speak to your children in English, you just might be asked if you will eat together with the rest. Or would like to sit at a special table with bottled water, made just for you out of love.
By the time the rest of you unsuccessful lot are getting served, you will get a giant mound of rice that looks like mashed potatoes with a microscopic droplet of stew on the side.
Or the bottom part of the rice, dry and burnt, with a small stain of soup that quickly dissolves into the cooked grains.
It might be for economic reasons that the stew and the rice have a significant difference in quantity, and therefore should be rationed so, but the corruption happening behind closed doors hardly supports this.
Open a cupboard in the kitchen and you will find hot pots and dishes of chapatis and thick, greasy stews and steaks hidden from the clan – you didn't even know there was chicken!
What if the meat and rice were mixed then, like in the case of pilau? Still, you will not be lucky.
As the person in front of you in the queue gets served, you take a look at the food inside that big, black sufuria and mentally note the richest section of the rice. You see that that particular portion has lots of meat, a potato or two, and a small piece of carrot for added colour and flavour.
Thankfully, the server has been serving from around that part of the food, and so you are definitely going to get a good share of the meal.
You keep your eyes glued to that ample spot as you now hold your plate with your outstretched hand, while the server uses another plate to scoop some of the rice for you.
But, alas, to your astonishment, this backstabber unapologetically scoops from an entirely different section of the food!
They skip that generous part of the rice from which they had been scooping just seconds ago, and dig that plastic serving plate into a section that wasn't even stirred well.
A section that didn't even 'catch' salt, a section without even a single piece of meat, and pour that plain rice into your waiting plate.
You hesitate a bit, trying to understand the injustice and rot that is happening before your very eyes.
Before you fully understand what is going on, they give you a small, additional scoop of the rice, which has a small, flat bone. Completely clean, completely white, without even a fibre of meat attached to it.
Alternatively, you get served nothing but tendons, which no self-respecting hyena would dare eat!
A peace-loving you wants to stand up for yourself, as you know your worth and cannot allow anyone to treat you badly.
But the server quickly dismisses you by turning their attention to the next person in the queue. You get tempted to launch into a fist fight but the Holy Spirit holds you back.
And as you try to regain your composure and walk away, you see the prejudiced swindler serving that rich section of the rice, which was meant to be yours, to the next person.
Side note: If no one in your family tree has the genes or skills to make pilau, then you will have pilau Njeri instead. Some of the common features of pilau Njeri is that it never has enough salt, the potatoes are never fully cooked, and you will not want to keep on eating it after the third spoonful.
Getting pilau Njeri that doesn't taste like water is as hard as getting a cake in a Kenyan wedding. You have to be closely related to the newlyweds to be guaranteed a taste of the cake.
After it has been shared with family and friends, the remaining cake will be sliced into Royco sized cubes then passed around for the guests, invited and uninvited, to scramble share amongst themselves.
By the time the tray of cake has gotten to you, only the crumbs are left, and the child next to you is crying for them while the young man behind you asks you to give them to him if you don't want them.
Wouldyou like to get published on Standard Media websites? You can now email us breaking news, story ideas, human interest articles or interesting videos on: [email protected]