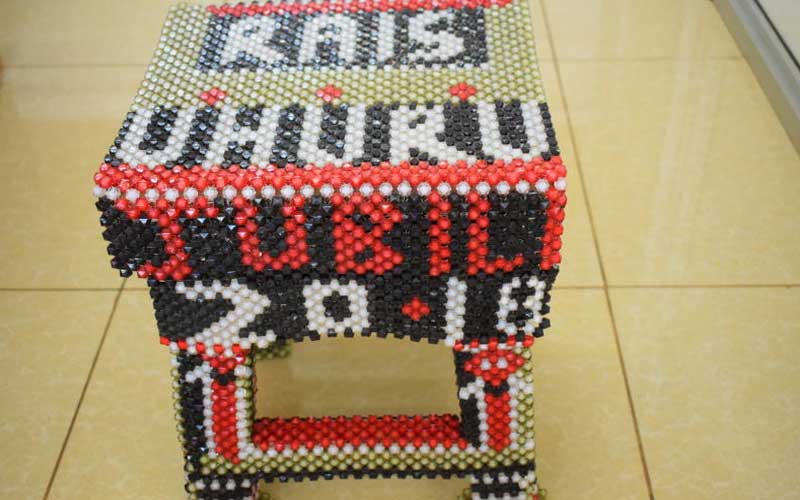 A Meru man wants to visit State House and give President Uhuru Kenyatta a gift, a traditional stool. He says the love for cohesion and renewed fight against graft by the President won his heart.
It all started when Ikuli Musyoka, 37, had a vision a few months ago in which he was "instructed" to do something extraordinary to honour Uhuru Kenyatta's efforts of bringing cohesion and especially tackling the big fishes in public money theft.
The menial jobs worker and father of two, however, had no money to buy a decent present for the president but to fulfil his dream's "instruction", he approached a friend for loan to make a gift.
"The vision found me without a penny, so l borrowed from a friend, travelled to Nairobi where l procured beads for making the president a gift - a traditional stool covered with beads. The whole piece of art cost about Sh10,000 factoring in the expense of travelling to the city to get high grade Maasai beads," he says.
Musyoka would do and redo the 15 bundles of beads round the stool until they fitted perfectly, that was when the NYS 2 suspects were being arraigned in court. A bundle of beads costs Sh300.
When done he was left with one hurdle - reaching the President to hand over the gift, which he hopes will materialise one day.
His love for the President did not start yesterday. Musyoka on several occasions last year during the run up to the general election tried to stretch his hand to the President when he (Uhuru) toured the town for a handshake but it was all in vain.
"When he came to Mikinduri and Kaaga grounds I squeezed myself towards him to get his hand but his security was mean to me," says Musyoka.
The President's security detail would again block him during this year's Madaraka Day Celebrations at Kinoru Stadium.
The Mwingi born father who settled in Meru in 1995, is however, still optimistic that he will meet the president "as I saw in the vision."
He refuted claims that he is after money saying that if such was the case then he would have sold the stool long ago.
"EALA MP Mpuri Aburi offered me Sh50,000 to sell him the stool in June this year but I shunned it," he says.
"During the Madaraka Celebrations some guys in expensive suits who introduced themselves as Nairobi governor Mike Sonko's workers also asked me to sell them the stool so that they take it to his office but I told them off."
Mr Aburi could not be reached to confirm or deny the claim at time of gong to press.
If the President accepts his gift and offers him a minute to say a word, what would he say?
"I would first ask for a photoshoot as I shake his hand," said the artist who also makes beard neck ties."
He continues: "Then I would also ask him to look into tribulations talented craftsmen face in trying to break (into) the market."
Would you like to get published on Standard Media websites? You can now email us breaking news, story ideas, human interest articles or interesting videos on: [email protected]