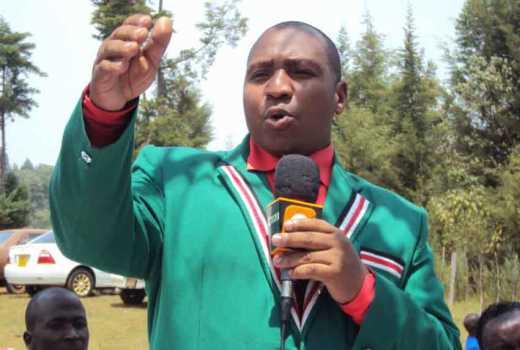 A nominated MP joked that his leg was an 'asset' and that he would not want the clergy to pray for it be healed.
Speaking at Kipsigis Girls Secondary School in Kericho, David Sankok said that as much as he receives and asks for prayers from the clergy he is usually afraid that they would pray for him to have a "normal" pair of legs.
"I usually ask members of the clergy to pray for me to get everything but not to regain the ability to walk without crutches," said Sankok. "My disabled leg is my meal ticket."
The 42-year-old MP from Narok lost his ability to walk unaided in 1988 after he contracted pneumonia at the age of 12 years. He was admitted at a hospital and wrongfully injected with the medicine, which left one side of his body paralysed.
However his speech shocked many as he didn't appear to regret the fateful injection.
"I have crutches, which I use by putting one leg after the other just like any other ordinary man," he said, pointing out that many people have legs which they hardly use in a resourceful fashion.
The mheshimiwa even singled out athletics giants Ezekiel Kemboi and David Rudisha as the few who have made praiseworthy use of their legs. According to him, these and other athletes need their legs but the rest of Kenyans can focus on using other parts of their bodies. The former representative of people living with disabilities maintained that despite the disability, he had a wife and daughter, Rosemary, to write home about.
 "Though I have a leg problem, I am handsome. My daughter is equally very beautiful and intelligent. She sat her Kenya Certificate of Secondary Education (KCSE) last year at Kipsigis Girls High School scored a mean grade of A," the father of seven said.
Sankok said that during his formative years, all he wanted was to be a fearless moran who would champion his peers into raiding other communities for cattle.
But his father sent him to school instead as punishment since he could not perform simple tasks like herding cattle.
Sankok was enrolled at Entontol Primary School and after siting his primary school education he joined Kericho High School where he performed well and was admitted at the University of Nairobi's College of Health Sciences.
The former Student Organisation of Nairobi University chairman was, however, suspended from the University for leading a students' strike but went to Norway where he pursued a diploma in medical research.