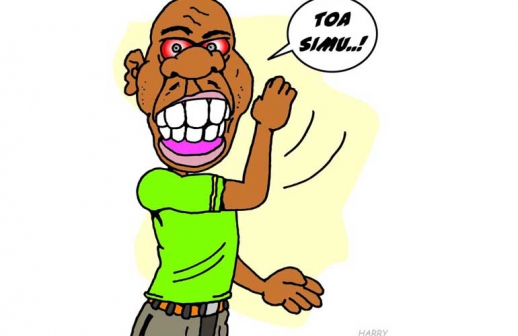 With street mugging and robbery on the rise, I remembered that I also had an encounter with gangsters a few years back. It happened on the outskirts of Nyeri town where I had gone to try to find the direction my life would take; but we all know everything went south.
I was taking a path to where I lived, it was around 7pm, little did I know I was taking going down a drain, I was on a highway to hell. Two guys in their early twenties stopped me.
I stopped because I immediately recognised one guy, he used to do gospel rap at a popular chapel where we used to go for a youth overdrive service on Sunday afternoons.
He was a really talented rapper. Truth is, I stopped because he called me so courteously gowning me with a lovely tittle: "Mrembo...."
"Sasa," he greeted. "Poa", I responded smiling from ear to ear. "Kuja hapa mrembo," he requested calmly. I obliged, he was a man of God, a shepherd and I was a straying sheep, so, I went to him.
Standing closer than expected, totally ignoring the social gap, he calmly told me to hand him my phone. He probably wanted to record an anointing in it.
Okay, lie, I thought he probably knew me from church and was pranking me now that I was walking alone at dusk.
I smiled shyly and said, "Haki wewe, acha hizo". In my head I had already started imagining how I would brag to my girlfriends the way a local celeb had pranked me. How I had interacted at a personal level with him. Gosh!
"Sio mchezo. Ebu wacha ujinga!", his friend growled and it's then that I realised Mr Rapper was holding mti wa Jembe. His friend on the other hand was armed with a big round head resting above his shoulders. I heard that his name was Ali. The name of the rapper will remain undisclosed. Kidogo, I felt a sharp pain in my butt.
The rapper had hit me! He struck the demons straight outta my butt. He hit me again! It was not a joke! Was it because we were standing outside a church? Was he emulating Jesus when he whipped people in a church? I would have wished to have my butt hit by him, maybe gently, under different circumstances.
I quickly handed them my phone and a few coins I had left then he kicked me yet again but this time with his foot before ordering me to run home and stop walking in the dark like a demon or some kind of 'hoe'. I ran with heavy heart. A few meters I stopped in disbelief. They threw stones at me like I was a stray dog! I was devastated. I felt like a deflated balloon.
Efforts to get my phone back later bore no fruits because after I reported him to his fellow musicians, he kept giving me dates he never honoured. I decided to forgive him. I'm yet to come into terms with the fact that I was robbed by a Christian outside a church.
Honestly, I don't know what hurt me more, emotional, physical or financial pain. He had given me such an anticlimax.