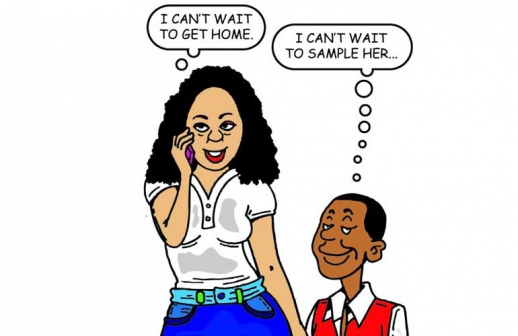 A woman at a 'plot' in Nairobi's Roysambu area learnt the hard way that there exists no such thing as 'free lunch' in this urban jungle.
This was after she was dramatically and unceremoniously thrown out of a house in the dead of the night, for refusing to offer nookie to a man who had treated her to sumptuous meals, copious amounts of expensive wine and offered her a place to sleep.
Forgetting that we are no longer in the era of gentlemen but that of patient wolves, the woman ate and drank to her fill, expecting it to end there.
What, however, the patient wolf, only identified as Justin, had on mind was that the treat would culminate into a steamy romp.
So when the woman refused to play ball, the 25-year-old man expressed his anger rather dramatically by throwing her out, even as she tried to explain that she was on her periods, promising to come back days later specifically for a gland to gland combat with the man.
According to his friend and neighbour, Justin, a job-seeking graduate who currently relies on sports betting for a living, had been trying to woo the woman, only identified as Fatuma, in vain.
After his attempts to invite her for sleepovers failed, he changed tact and suggested a night out. The lady agreed, but insisted on tagging along her female friend.
To balance the equation Justin invited his buddy Brian, to entertain the other lady. Keen to impress them, Justin opted for a popular high end night club along Thika road.
Considering he was the plan's chief architect, Justin had to shoulder the big chunk of expenses incurred.
The merry making, dancing, drinking and shisha smoking went to late in the night. In line with their plan, they took a taxi which dropped the pairs in their respective homes.
Dung, however, hit the fan when Justin and his flame got to the house. The lady sternly turned down his intimate advances, citing fatigue, among other excises.
This, of course, sounding like some bad joke. With the undying spirit of a 'player', Justin pushed his luck further, nagging her to open the flood gates. This infuriated the lady, forcing her to yell expletives.
"Don't touch me, I will scream if you continue forcing me," the lady was overheard shouting. This, of course, wasn't amusing to Justin, who could not believe his investment was actually going to waste.
"So after enjoying my money you have the guts to resist me! Please be fair now and cooperate," he was overheard yelling as he argued his case.
"If this is what you all along wanted, shame on you 'sponsor mwitu (fake sponsor)'. I am not that cheap," hissed the woman, as the argument turned into a shouting match.
"Get out then and go," Justin barked as he dragged her out. Her attempts to beg him to stop embarrassing her fell on deaf ears.
The woman had to make the walk of shame, leaving neighbours, who condemned the incident, in shock.