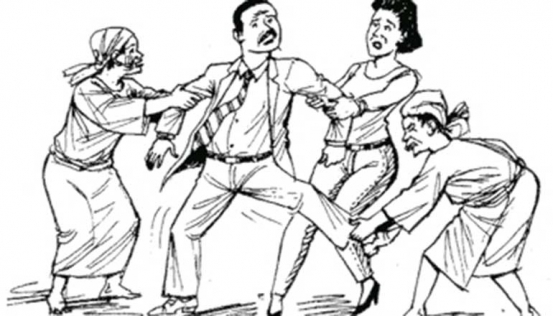 If you thought it is only women who are at the risk of getting raped, think again. A Nigerian man was repeatedly raped to death last week by six women. Oruko Onoja's fame and financial breakthrough pushed him into having up to six wives.
It would be safe to claim that Onoja bit more than he could chew by marrying six wive, because that seems to have turned out to be his undoing.
His love for sex equally contributed to his patronage of the most beautiful girls in his village in Nigeria's Benue State hence his polygamist status. Trouble started last week Tuesday morning when Onoja returned from Ochanja, a popular joint in the small community of Ugbugbu and headed to his youngest wife's room.
The other wives who according to the youngest wife, Odachi had a meeting before he returned home invaded her room with knives and sticks, demanding that their husband have sex with all of them at once.
Onoja who resisted their attack was overpowered by the women who ordered that the sex orgy begin with the youngest wife and to continue in that order to the top.
It is reported that the man tried his best but stopped breathing when the fifth woman was making her way to the bed. "Suddenly, my husband stopped breathing, and they all ran out, still laughing, but when they saw that I could not resuscitate him, they all ran into the forest," said the fifth wife.
The man is reported to have been a popular philanthropist in the village who had contributed positively to the growth of the community.
When contacted, the village head, Mr Okpe Odoh affirmed that the matter had been reported to the police and investigation was ongoing even as the youth of the community are helping the police in search of the escaped wives. So far two of the wives have been arrested.