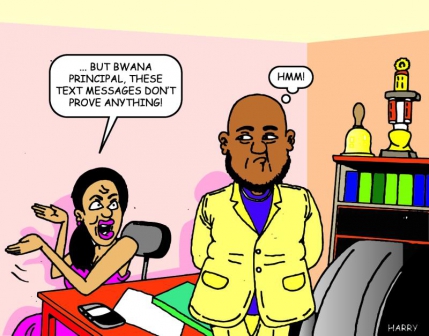 The history teacher, Vasco Da Gama is caught in the eye of a romantic storm and Meta Meta secondary school is in shock. He has allegedly been having an affair with a Form Three girl from a neighbouring school. Last week on Wednesday, agitated parents of the girl stormed Meta Meta, demanding his TSC number.
Brandishing the girl's mobile phone they had damning evidence in the form of romantic texts supposedly sent to the girl by Vasco Da Gama. The school head, Okonkwo was so shocked by the allegations that he called madam Magarita. The CU Patron and HOD guidance and counseling, Magarita, deployed her counseling and spiritual weapons to calm the situation down.
Bad news has a way of acquiring fast wings. Within no time, the whole school was aware of the scandal. While peeling potatoes all the way in the kitchen, Jezebel, a cook who likes gossiping, was heard by Mr Thunder exclaiming, "Jamaneni! Ati mnasema hata paka mzee hunywa maziwa?" Schola, our rumour mill caretaker, excited at the prospect of a scandal, put up a post in the WhatsApp group:"Ngai! Ladies beware of wolves in sheepskins."
Vasco Da Gama, fondly referred to as 'Papa' by some female members of staff, is not known to have loose morals. His only known weakness is that of demolishing boiled goats' heads at JJ's pub.
Amorous texts
The girl's parents explained how they had unearthed amorous texts in their daughter's phone. They had called the number from which the texts had been sent. Vasco Da Gama had answered and, indeed, confirmed that the number was his. He had also informed them that he was a teacher at Meta Meta.
He, however, flatly denied having an affair with their daughter. When they threatened to take the matter to Madam Macharia at the TSC, the history master, thinking that they were con artists trying to blackmail him, dared them to go ahead if they had any evidence.
The girl's father showed our school head, Okonkwo some of the texts: 'Babe, imgn am just thinking of you, leo ata mao sikunyita kitu. Aki nakumiss! (Babe, imagine I am just thinking about you. I did not even get anything in mathe lesson. I miss you.) Another went: 'Babe! Jana sikutuna, nlikua nakuwaza tu. Si midterm ifike haraka. Matiang'i roundi hii ametunduga wiki mzima! Nitakushow mchoro ingine noma. (Why can't midterm come fast? We have a full week. I have a great plan). The girl had also texted. "Xasa Romeo,msng u big. Memories of last Dec hols keeping me company. Masomo ni pano! Mamode hapa ni watiaji na chuo inabore!" (Hi Romeo. Missing you. Memories of last holidays are keeping me company. Studies are a punishment. school is boring.)
Okonkwo was unable to associate Vasco Da Gama, who hardly speaks sheng, with the amorous, boyish texts. He handed Magarita the cell phone. Having left her office hurriedly, she hadn't carried her glasses and had to squint hard to read the texts while holding the phone at arm's length at an angle. "Shindwe kabisa!" She exclaimed.
This drew a loud scream from the girl's mother. The deputy head, Wa Makeri who had been walking along the corridor, checking whether all classes were attended to, rushed into Okonkwo's office. Wa Makeri is a firm believer in MBWA(management by walking around). The senior principal, only too happy to let the case off his hands briefed her. She saw the texts and also confirmed that the phone number indeed belonged to Vasco Da Gama.
Vasco Da Gama's number had been saved as Romeo. "You are in charge of discipline, handle the matter," Okonkwo told Wa Makeri. She, however, reminded him that she was only in charge of students' discipline. Vasco Da Gama apparently unperturbed was in class and was sent for when the impatient parents threatened to go for him... To be continued.