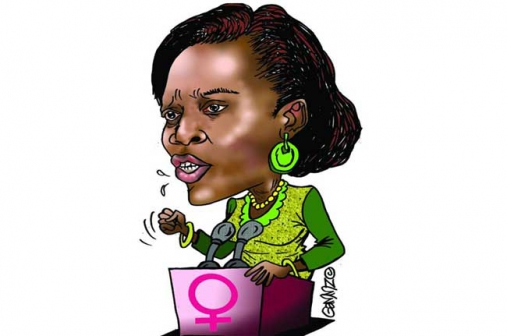 Without affirmative action, Ellen Johnson Sirleaf beat the hell out of seasoned male politicians some time back in Sierra Leone and become the country's first female president. Journalist Monique Ohsan Bellepeau later on pulled off a similar stunt in Mauritius. So did tough-talking Joyce Hilda Banda in Malawi the other day.
Need I mention no nonsense Catherine Samba-Panza who wrestled career male politicians in a muddied Central African Republic political process, floored them and became first female president (albeit interim) in 2014? Far afield, we have Dilma Rousseff who went head to head with established male politicians and strolled into the Brazilian state house.
It's the same story for Chancellor Angela Merkel in German and now Theresa May, who is the second female UK Prime Minister after the peerless Iron Lady, Margaret Thatcher. In two months' time, Hillary Clinton, who is currently holding bullish Donald Trump by the balls, is likely the first ever female president of the United States of America.
Closer home, it's unfortunate we have nothing but flower girls who just can't stop clutching on their male party leaders' coat tails for political survival or election, even for the smallest post like Member of County Assembly. Little wonder, then, that even after the democratic and political space was liberalised and widened, we don't have a single elected female senator nor governor. A clear indication that a first female president around here remains a pipe dream.
However, there can be no denying that Kenya's leading female politicians are Martha Karua and Charity Ngilu from whom the ineffective floor girls can learn a thing or two.
First off, unlike some male politicians, Karua and Ngilu are not your average 'yes-pushovers' or 'sissy followers'.
Iron ladies
These two iron ladies have a rebellious streak — a very important quality for an ambitious politician. For instance, who among our ever-nominated flower girls can walk out on a sitting president, like Karua did on Mzee Moi? Or let any who can refuse to greet a sitting vice president by ignoring his outstretched hand, mumbling: "I don't greet bad men" like Ngilu did to Kalonzo step forward.
My friend, when was the last time you heard Karua play the 'woman card'? You can only catch her dead, for instance, saying sissy stuff like, 'Sisi kama wamama (us women)'. To my knowledge, too, no public photograph of her children exists. Her dress code is severe and, unless she is adorned in the green apparel of her flower party, she is always in red or back — tough and serious colours.
Typically, when you mess up with her, you would not hear her grumbling and whining that she is targeted because she is a woman. Neither does she hold noisy demonstrations. Instead, she prefers press conferences where she intellectually and mercilessly tears her enemies to pieces. Karua is the last woman you will see come up with a shenzi slogan like, "Manzi wa Nai", "Supuu wa Nai", "Msupa na Works" or "Bae wa Mtaani".
Ngilu, on the other hand, is not only politically coy, but also seductive. As those who have had the misfortune to tango with her will attest, that brain of hers churns out zingers and punchy soundbites at the speed of light.
Older readers will recall her at a press conference where she announced that she would be the presidential torchbearer for the Social Democratic Party (SDP) in 2007. Flanked by many bearded men, she daringly stared into the camera, banged the table and purred: "SDP seduced me and I have accepted."
Not long after, she was photographed hightailing it from a riot, skirt hitched high and teargas canisters and cops in hot pursuit. But for some reason, I just don't see Karua running away from cops. Rather, I suspect that there are few cops who would cherish being photographed chasing Karua because they know she would cause a legal stink for weeks, if not months.
Years later, Ngilu made news when she drove through a cordon of senior cops — some desperately attempted to stop her official car with their bare hands — with a female activist that the cops badly wanted to detain.
You just don't mess with Ngilu. We all recall when the late John Michuki rattled a snake by equating Ngilu's activism to the gymnastics of a traditional Kamba dancer. So enraged was Ngilu that she promptly arranged a demonstration by women against Michuki.
Related Topics