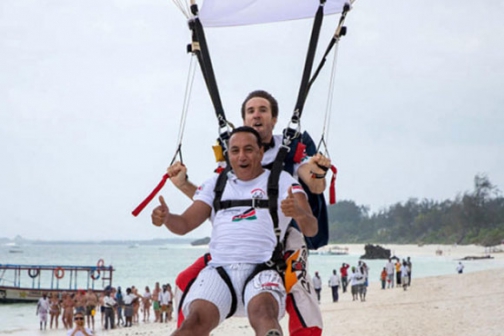 A "Curious Case of Benjamin Button" is unfolding in the person of tourism Cabinet Secretary Najib Balala. For those who may not know, The Curious Case of Benjamin Button is a 2008 American romantic fantasy film where Brad Pitt stars as Benjamin Button, a man aging in reverse.
Unlike the typical human life cycle of young to old, Button starts on a reverse mode -- old to young. He's born with less energy, less flexibility, less agility, less likeable looks, but goes on to acquires these and more incrementally over time.
Those who have been observing the 'evolution' of Balala over time are wont to grant him a positive comparison with Button. Besides reinventing himself, every time people are about to write him off, the man makes a political move that gets him back in circulation.
For a while now, I have been observing his changing looks. His silver hairs of the yesteryears are gone, presumably with the dye. His old sleek frames have been replaced with the trendy geek glasses of the times. He has replaced his tired and grumpy visage of ODM days with a fresh "in government" looks.
And then the events of last weekend happened. And I was initially shocked. "Tourism Cabinet Secretary Najib Balala jumps off a plane," one of our TV stations screamed. I almost dropped my mug of coffee. Why would a CS who is not embroiled in a mind-boggling scam, who is seemingly in best of terms with his family, who is neither a sot nor a peddler, at least in our public knowledge, commit such a suicidal act? Was the plane moving at the time?
These questions were ringing loud in my head when they showed a clip of the man dressed in shorts and parachuting into a Coast beach alongside an instructor amid cheers of local residents and on-lookers. It turned out later that the CS had skydived off a specialized sky-jump aircraft flying 10,000 feet above sea level in a move meant to promote local tourism and protect endangered turtle species.
It is important to note that a much younger Balala was a tourism minister before. Skydiving is also not a new phenomenon in Coastal fun activities and has been a popular sport all through and as he grew up over there. It is also noteworthy that skydiving is not for the fainthearted. It requires balls of steel to jump off a 100 feet let alone 10,000 feet above sea level. The empty skies are not our territories and our consciousness is alive to this.
I know this because we used to jump off cliff in Machakos while growing up in the village. I was always the last to go and even then, I had to be pushed down. Suffice to say that in any flight, one must summon enough will power to stamp out fears for the possible dangers that come with it.
Other than the experts, the only other group which can easily brush out the fears of such a dive-- at short notice-- are the youth. They care less about their fate. The older one gets the more the fears of life grow. By the time Mzee Jomo Kenyatta died in 1978, he could not board a plane. Yet in his youthful days he was basically globe-trotting in "iron birds" at a time when "flying was flying."
But Balala is disapproving all this. The historic "jump off the plane", as the TV station described it, has set the bar too high for current and future CS's of tourism. I do not foresee his record being broken in the near future. He is leading from the front in enticing tourists to flock back to our beaches. A breath of fresh air in a long-suffering ministry, Balala is living testimony to the axiom that it is people who give life to the offices they occupy. It is not the offices which give life to the people occupying them.