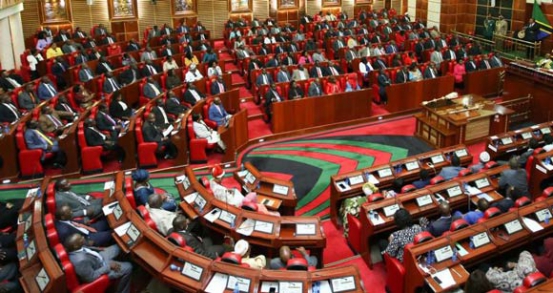 As the golden Phoebus swallowed the horizon for the last time in 2015 on Thursday night, Politically Correct awards were being dished out. The Usalama Watch Award of the Year went to Limuru residents Eliud Gitau and Njoroge, the pair that smoked out "doctor on the run" Mugo Wa Wairimu as he cooled his heels in Gitungo hotel.
Disappearing Act of the Year was scooped by celebrated cartoonist Gado aka Godfrey Mwampembwa who vanished without trace after subjecting the country to satirical pieces for more than two decades.
Most Ridiculous Quote of the Year went to MP Alfred Keter's outbursts in the aftermath of his now infamous toll-station confrontation: "If I resign because of this Kenyans will really die because there will be no other Keter to fight for them."
Cold Fact of the Year: Herbalist Dr. Murugu's claim that men from Western Kenya tended to suffer Prostate Cancer more than other men because they tended to leave their women back at home. Because they also lacked the "means" to approach ladies in the city, they also tended to "clog stuff" within them increasing chances of infecting their prostates.
Denial of the Year: The cop who commanded the gassing of minors in the infamous Lang'ata Primary School demo. Asked why his boys used teargas on the hapless kids, he retorted, amid wafts of teargas: "I am not aware if any teargas was used."
Most Intriguing Case of the Year: The mystery of ICC witness Meshack Yebei who died, resurrected then died again for good. His obituary was written, his family identified him, ICC send its condolences until DP William Ruto insisted on a DNA test, and until, much later, another family claiming Yebei's body came up.
Coup of the Year: The re-jigging of Njuri Ncheke and triumphal entry into their holy shrine of their new benefactor, Governor Peter Munya of Meru.
Unlucky Man of the Year: Peter Kipkemboi Ruto, the man who was sentenced to life imprisonment over post-election violence, but got death penalty on appeal.
Rub-it-in of the year: Kenya Broadcasting Corporation news anchor who announced to the whole world: "Bila shaka, hatuna shaka Kenya yote inatutazama" when all other TV stations were shut down over digital migration impasse.
Outburst of the Year: COTU boss Francis Atwoli telling off former labour minister Kambi Kazungu: "If you asked any Kenyan or East African for that matter between Francis Atwoli and Kambi Kazungu who is most corrupt they would respond in one chorus Kambi Kazungu." Atwoli put the cherry on the cake when he told Kazungu to respect him for he danced with his mother back in the day before he was born.
Pick-up line of the Year: Turbo MP Elisha Busienei took it away under cloud of controversy. According to newspaper reports, the MP refused to move out of fellow MP Joyce Lay's door while on a foreign trip by retorting: "Haujui mimi ni Kalenjin?"
Hashtag of the Year: #SameShitDifferentYear, the unfortunate story of the police chopper which was supposed to go on a rescue mission in Garissa University attack but which had ferried top cop's family to Mombasa.
Shocking Finding of the Year: A tie between finding that Nakuru is the only county which registered a score in male sterilisation and that Narok and Tana River led in "withdrawal" practice of traditional birth control.
Dare-Devil of the Year: Researcher Dr Titus Lanyasunya; cornered over his plans to marry a minor, he threatened to marry ahead of his time: The marriage is planned for July or August this year but if these people keep pushing me, I will marry her this Friday, over Easter."
Scandal of the Year: The shop-keeper lady who sold President Uhuru Kenyatta a soda in Machakos. It later turned out that she had a microphone at hand against well-known fact that shop-keepers do not use microphones to communicate to their customers.
Goof of the Year: Deputy President William Ruto's reference of Princess Elizabeth as "Prince" during the beatification of blessed sister Irene Nyaatha in Nyeri.
Most Violently Disputed Claim of the Year: Prof Makau Mutua's claim that all men have some gay in them and that it's only a question of degrees.
Amnesia Moment of the Year: Convicted missionary Matthew Durham claims that he did not remember molesting Kenyan orphans. He, however, confessed he had a demon inside him named "Luke".
Disappointment Act of the Year: Gospel singer Willy Paul storming out of Groove Awards ceremony empty-handed and screaming: "Where is my car and my girlfriend?"
Dreaded News Award: The twin announcements in May that a US panel was slated to approve the first female Viagra and that scientists announcement that they could manufacture sperms soon.
Man of the Year: The Kenyan fellow who sprinted to put stoppers on Airforce One's wheels and prevented it from skidding across JKIA into Pipeline estate.
Most Excitable Person of the Year: Julie Gichuru took it away with her historic ululation-over-microphone while welcoming President Obama at the GES Summit in Nairobi.
Thief of the Year: James Ngugi Ng'ang'a who pleaded guilty to charge of stealing 24 copies of the People Daily, a free newspaper.
Scoundrel of the Year: Tana River Senator who appeared at NCIC for grilling on hate speech charges, but repeated the same hate-speech statements outside the agencies headquarters.
Slogan of the Year: John Pombe Magufuli's,"Hapa kazi tu." At his campaign rallies, he would introduce himself thus: "Mimi kwangu ni kazu tu, mtu mchapa kazi, wengine mnaniita tinga tinga. Basi msihangaike."