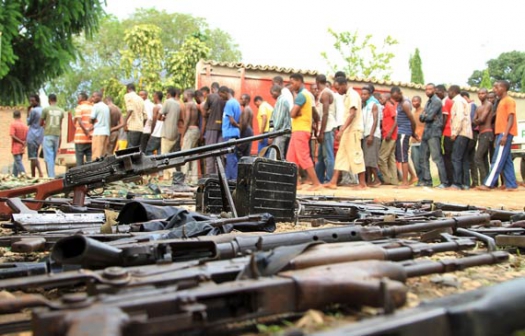 Burundi. That is the word on the lips of many citizens of East Africa as they watch the country slide towards a war of sorts — genocide. Also watching in silence is Africa Union (AU), probably because the member states do not want to interfere in internal matters of another country. To be fair, AU, which has been steadfast in castigating the International Criminal Court for targeting only African leaders and turning a blind eye to atrocities committed by leaders in other continents, spoke the other day.
Well, AU's top security organ, the Peace and Security Council, said nothing of importance in particular. And as is expected of African leaders, who want African solutions to African problems which, I should add, they have caused, said that "Africa will not allow another genocide to take place on its soil."
Peace and Security Council (PSC) met over the possible deployment an Africa-led mission to prevent widespread violence. The PSC wants to prevent widespread violence — whatever that means, considering that there is violence, and it is already widespread, unless they are talking about it spreading to other countries!
While the AU, or its smaller brother, the East African Cooperation of which Kenya is a member, is dilly dallying and waiting for "widespread violence" for it to act, the head of a European refugee agency is warning that Burundi will blow in their faces, and they will regret not acting in time.
"Syria started small, and right now, there are 13.5 million Syrians who need humanitarian assistance," Jan Egeland, the Secretary General of Norwegian Refugee Council told me over coffee last week. "Regional governments and international organisations will regret for their poor approach towards ending the crisis in Burundi," he said, and added that "it is a small conflict but it will get bigger if conflict resolution initiatives are not scaled up."
Mr Egeland, who was in Kenya for a consultative meeting, more of a conversation with the business sector aimed at Enriching Lives, should know better considering that the body he heads does humanitarian work in some of the worst hotspots such as Syria, South Sudan, Somalia, Yemen, Central African Republic and has just start operating in Nigeria.
"The business community must use all its influence on the neighbours, the parties in Burundi and all stakeholders and tell them to step back from the brink," Egeland said. "The crisis in Burundi will affect the region and create more refugees, yet we cannot even adequately take care of the ones we already have."
Why would he call on the business community to help, you may ask, and not governments which have monopoly of state resources, which includes weapons to stop troublemakers? "War is bad for business," he said. "And we are seeking partnerships with the business community because we have the same interest in human rights, peace and stability and as things stand now, we lack resources to meet the needs of all refugees."
Norwegian Refugee Council currently works with Safaricom (and its CEO, Bob Collymore, was part of the Enriching Lives conversation) in providing online education to the children of refugees in Kakuma. The telecommunications service provider has provided Tablets and connectivity, or Internet services to the leaners.
"We are asking for partnerships, not money, to enable us to assist the refugees and the host community who live around the camps," he says. "We need to enable refugees to use their skills, resources and potential." Norwegian Refugee Council, Mr Egeland says, already works with global giants such as Microsoft and MasterCard which know the important role private sector plays in humanitarian work.
Egeland believes that the private sector must come in to help Burundi otherwise all will suffer. However, it is common knowledge that the private sector alone will not bring an end to the chaos, unless the governments step in and do more than just holding meetings. The AU Peace and Security Committee met, and the meeting generally agreed "on the urgent need to stop the violence." Just agreeing on the need to stop the violence is not enough. By the way, the AU Council was just holding its random 565th meeting which was not called specifically to discuss the worsening situation in Burundi.
That is another tragedy...and when matters will get worse (aren't they already worse what with bodies strewn all over streets?), humanitarian agencies will be overwhelmed because "we are already weary, we do not want these conflicts to escalate and we hope that we can phase out our operations in many countries." That is what Egeland says.
He adds that we, as in Norwegian Refugee Agency left Burundi in 2012 "in the hope that we will not go back."