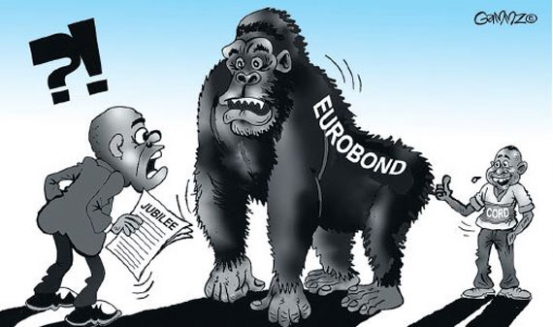 Choked in the daily groove of relentless search for the basics of life, the least an ordinary village woman or man wants to be entangled with is the current debate on Eurobond.
Let alone Eurobond, the very concept of "bond" cannot settle in almost 90 percent of Kenyans' minds, including the most learned of fellows.
A recent finding by a taskforce formed to review bail and policy found out that many Kenyans did not understand what a bond or bail was and they often confused them for bribes.
When you tie "bond" with "Euro" to create "Eurobond" you have not only lost millions of ordinary Kenyans but you also leave millions of "enlightened" Kenyans dazed like a deer caught in the headlights.
To many people, including top politicians- some who have maintained a studious silence over this- Eurobond is an incomprehensible beast, the sort of a thing depicted in the Biblical book of Job.
The strength in its loins has knocked the daylights off the Jubilee government which is barely smarting out of a largely successful year of many feasts.
The power in the muscles of its belly has revived dwindling political fortunes of Cord leader Raila Odinga and hoisted him in a moral pedestal.
Its tail sways like cedar and sweeps programmed politicians behind their political demigods to support a war they have no clue over. Some have had to rush on finance refresher courses.
The sinews of its thighs are close-knit and complex for tough bureaucrats like Finance CS Henry Rotich who find themselves contradicting their own statements and tripping by their tongues.
DEAFENING SILENCE
Even though it ranks among the first works of Jubilee, its creator is not safe from it. You could hear a pin drop as the country's chief sovereign- President Uhuru Kenyatta- approaches it with deafening silence.
Under the lotuses of healthy Kenyan political life, it has laid, hidden among the reeds in the marsh, concealed in the shadows of POTUS and Pope Francis visit to show its true colours closer to the election year.
"Can anyone capture it by the eyes or trap it and pierce its nose?" the Bible asks of Behemoth the beast.
Our Eurobond beast is equally difficult to deal with. Neither Jubilee nor Cord can capture it by the eyes without risking a political fortune.
For Cord, it's a good game of chances where they have nothing to lose and no answer can satisfy them. May be the doubts about it will stretch to 2017 election and wreak havoc on their competitors. May be this time round, they will hold Jubilee by their balls.
On the other hand in Jubilee, an opportunity presents itself to rebuff Cord and expose them as emotional cons. However the allegations are very simple but requiring complex answers which cannot sit in the heads of the masses.
The ordinary man is left in the middle, dreading every moment of it and the glowing stare of the beast.
One thing is definite though. Before the sun sets on this new beast, there will be a casualty. The question that remains unanswered is whom.