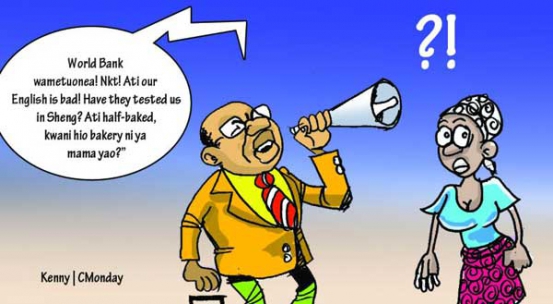 News that the World Bank and others organisations have raised concerns over the quality of Kenyan graduates, terming some of them 'half-baked', has been met with fury from 'tarmacking' intellectuals across the country.
Some of the scholars, in a press conference, demanded an immediate apology from the World Bank and others who have have been spreading the malicious rumour or else face dire consequences, among them, boycotting their job offers.
"World Bank has 'half-baked' experts advising them on policy. I mean, universities are neither kitchens, bakeries nor ovens. Who told them that for you to think analytically or write coherently you must be baked?" loudly wondered a visibly-angry graduate, banging a table at the press conference.
Irked intellectuals
"Just because some of us haven't found jobs for decades doesn't mean we are 'half-baked'. Ati our English is bad! Have they tested us in Sheng? These mzungus want to test us in their language, yet we never test them in ours. This is going to end very badly. They better apologise for likening our universities to bakeries! Ati half-baked, kwani hio bakery ni ya mama yao?" hissed yet another furious-looking graduate, who confessed of having 'tarmacked' for 11 years.
The irked intellectuals turned heat on the World Bank, Council for Legal Education and Engineers Board of Kenya, calling them busybodies and terming their allegations "baseless" and "malicious". "We are not half-baked... in fact during our graduation ceremony the sun was baking-hot and there were no umbrellas... so we left that ceremony fully baked by the sun...!" a fresh graduate said, adding: "Fresh graduates should avoid seeking employment in the organisations until they put out a full-page apology over the "half-baked" remark in two leading national newspapers.
"We appeal to all fresh graduates to withhold their skills and knowledge from these institutions... they need us more than we need them and we should teach them a lesson... eventually they will have no one to hire and they will close shop!".
Another equally angry graduate claimed the World Bank has hit them bellow the belt and they are not going to take it lying down.
"If worse comes to worst, we might be forced to sue the World Bank for tarnishing our image and reputation. The only people who have the constitutional right to decide whether we are half-baked or not are the food testers at the Kenya Bureau of Standards!" said the fresh graduate.
Taking a cue from politicians, the graduates claimed that there was a sinister motive by those behind their tribulations.
"This is a well-orchestrated campaign by foreign universities in the West who want to reclaim their lost glory when Kenyans were trooping to foreign lands for higher education... unfortunately they are doing this the wrong way by discrediting local institutions," said a graduate.
And to prove they were not half-baked, the fresh graduates who were still job-hunting, used the opportunity to circulate their CVs to journalists present. Under SEX, one fresh graduate did not indicate whether they were male or female, but rather their enthusiasm for the act itself.
Job interviews
Under REFEREES, another one listed one English premier league football referee, but they were also patriotic enough to have the second one drawn from the Kenya Premier League. Under HOBBIES, some indicated that they like smoking shisha, drinking alcohol, twerking and uncivil behaviour on social media.
The room erupted into pandemonium when some of the reps started arguing over what CV actually stood for. Some said it was an acronym for cursed varsity, while another who had probably seen too many socialites pass through his former institution declared it stood for curvaceous vixen.
But in the end, consensus was achieved when they all agreed that it was a Latin term that translates to 'embellished achievements' or simply put, lies.
And since some of the graduates were hurrying for job interviews while wearing skinny jeans, sporting tattoos and Mohawk hairstyles, they could not complete the conference and instead left behind their half-read press statement
"Ur hreby reminded to stop malaining our good nem. While we are running up and down trying to find someone who can write us a job, you are busy destroying our nem. Pliz stop or wewill rayot and look for you and kill your windscreen", part of the statement that was legible read.
Shots have been fired, and we can only wait and see how the World Bank will respond.