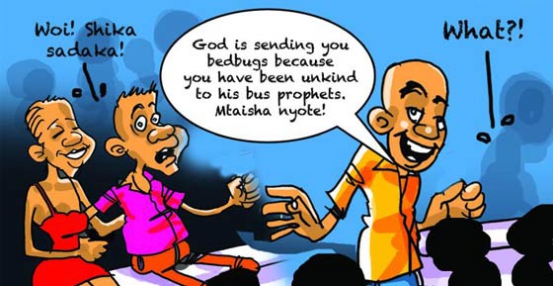 A city-based pastor left his congregation howling with laughter when — in the middle of a punchy sermon — he said that the current bedbug menace in Nairobi, and especially on public transport vehicles, is divine punishment meted put on residents for their hate and hostility towards bus preachers.
Contrary to popular belief that bedbugs are a consequence of poor hygiene, the man of God said, just like floods and locusts, bedbugs are the new plague. He sent parishioners into repentance mode when he said that unless Nairobians repented and humbled themselves before the Lord, they should brace themselves for hard times ahead.
The pastor went on to scoff at those of contrary opinion, telling them: "If indeed bedbugs were as a result of poor hygiene, then they should not be in existence, considering Nairobians did thorough cleaning just the other day when President Obama was visiting."
On why this menace has not visited residents of other towns, but Nairobians, the pastor said bedbugs have a high affinity for the blood of stressed people because it tastes better.
"This is retribution for all you people rejecting bus preachers!" shouted the man of God. "Nothing will change unless this talk of banning bus preachers goes away!"
Meanwhile, in related news, following the bedbugs menace, city scientists have warned it could have dire consequences on the county's mosquito population. The scientists have expressed concern that the mosquito population in the city could be halved in the next two years due to competition for food from the bedbugs.
This is because the bedbugs are able to feed on Nairobians during the day in matatus and by the time the county residents return home for the night they have little or no surplus blood left for the mosquitoes. In that case, animal rights activists are calling for immediate action to be taken so that future generations are not robbed off the mosquito heritage.
"Imagine future generations talking about mosquitoes in the same breath with dinosaurs, trilobites and dodos. If the mosquitoes becomes extinct, the future generations won't know what its like to bitten in their sleep," said an activist. "That would be a sad thing for them... We don't want them to only read about it in books."
Some scientists are of the view that the only way out is putting in place quotas that will ensure the two parasites get equal chance to feed.
The scientists believe the quotas would prevent skirmishes over food. Just like pastoralists occasionally engage in fights with farmers over water and pastures, it is feared the same could happen between mosquitoes and bedbugs. Mosquitoes would be the underdog here since they are light and delicate compared to bedbugs which have a thicker skin, literally. Bedbugs are also heavier and all they need to do to kill a mosquito is sit on it.
Mosquitoes starving
Mosquito starvation has been made worse by the teachers' strike, which has seen the number of commuters going down. With reduced hosts, bedbugs are consequently being forced to suck more blood per person than usual to make up for it. By the time the commuters get home they have no surplus blood for mosquitoes.
This has seen a record number of mosquitoes starve to death. Others, rather than face the indignity of hunger, have committed suicide by engaging in dangerous behaviour like exposing themselves recklessly to human beings who either crush them in between their palms or hit them with meatwrappers.
The proliferation of bedbugs has not only made mosquitoes worried but residents are concerned too. To prevent the spread, it is believed some people on the most affected matatu routes are no longer just removing and leaving their shoes at the doorstep. But also taking off all their clothes to leave them soaking in insecticide outside their doors!