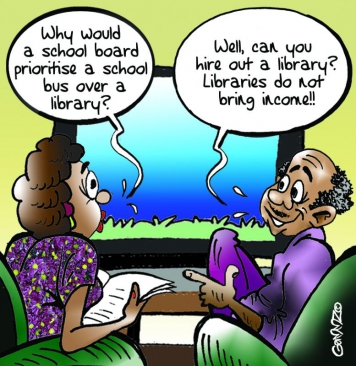 There is an old expression. "If you want to hide something from an African, hide it in a book". The insulting stereotype aside, books do not pull rank in the average Kenyan home. Our poor reading culture is something to worry about. If only we spent some of the time we waste gossiping on social media, discussing politics and watching English English Premier League in libraries, we would be doing much better.
The British Institute in Eastern Africa (BIEA) is one of the few left and has been around since 1960. It contains an enviable collection of books for those interested in humanities.
The kind of information Google aggregates rarely troll. I joined the BIEA library recently after a limit with Google. Google does not know everything. It felt redeeming to acquire something as simple a library card.
The library room was so quiet and I assumed a scholarly demeanour. I was reminded of the labyrinth that was the University of Nairobi Jomo Kenyatta Memorial library. Rows of metallic bookshelves, in a crammed space, dusty hard backs titles that can only be scanned if you walk with your head tilted to the side hoping to run into a classic title or stumble upon some rare knowledge.
I grew up at a time when libraries were places of leisure for children and shrines for knowledge seekers. A quiet public place to reflect, ponder and gather new information. My uncle, Francis Otieno Pala, was the country's chief librarian and I developed an appreciation for these spaces early and nurtured the habit of life-long reading. Libraries were hang outs where we could read some fine books especially the ones our parents could not afford.
Information age
The only place one had a chance to read foreign comics like Tintin. When I was in college, I spent my first year, working part time in the Uni library. The pay was dismal and pushing a cart, picking up books and re-shelving them once students were done was in no way cool. But the access was incredible.
I learnt how to catalogue, find rare books, which gave me an edge in exploring other libraries I would visit later. After college, I joined a small discussion group that kept a private library.
The subjects were varied and I gained access to alternative reading mostly on Eastern philosophy and New Age topics. The joy of borrowing and reading any book I desired was to become a cherished privilege.
Reading for leisure is a forgotten pleasure, fading, swallowed and lost to our saturated information age. The public library is as endangered as the African elephant. In the digital era, libraries get slandered as a waste of space by those who never appreciated reading.
The last library that I had membership to, is facing threat of closure. It was housed in a members' club but questions about its diminished income-generating potential have been raised and now there is talk of its "unsustainability".
In our time-strapped world, a leisurely stroll to the library or leisurely reads for that matter are rare occurrences.
Libraries at best are a place to chop and cram text just before a final exam. Books represent labour, regimented study and a burden one bears on the rugged long road to secure employment. Reading is serious business and the socialisation around books has been very sterile.
Books are not sexy. No book is considered worthy until it is turned into a movie. There are akin to instructional manuals to be thrown away after school and on a good day, recycled as jiko fuel.
The prevailing narrative is that their time is up and we could save a lot of trees if we condensed books into digital files, distributed e-readers and shared e-books.
Presidential directive
Digitisation of books is touted as all about convenience not forgetting, profits. School boards would prioritise a school bus over a library any day. It is simple economics. You cannot hire out a library. Libraries do not bring income. It is not just libraries that suffer. Public services are in rapid decline.
The neighbourhood kiosk. The open market. Free theatre. The estate sports ground. Social halls. Public parks. Privatisation of social services has become the norm.
There is an urgent need to displace paper books with the next hot thing yet many children continue to grow up scared of reading.
Which is a crying shame. Libraries are not only about the books.
They have a social function. A place to exchange ideas and gain knowledge for free. An open-source learning facility for those who cannot not afford books. Where no one is denied the right to read for the simple reason that they could not afford to buy a book.
We desperately need that presidential directive mandating the commissioning of community public libraries in every county, not as luxuries but as necessities. In reality, it is a lot cheaper to maintain a public library than to reeducate an ignorant nation.
To read more from this writer, go to www.oyungapala.com
Twitter: @realoyungapala