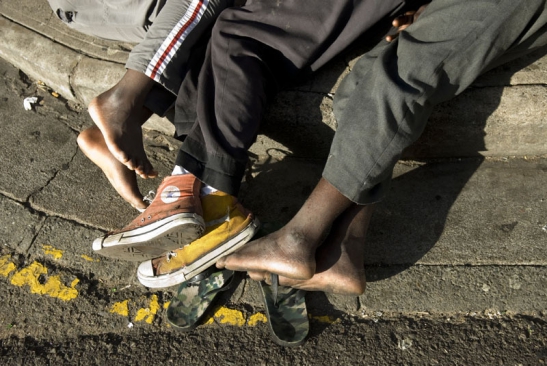 Street kids are a nuisance everywhere. They start as harmless beggars and then graduate to 'dangerous beggars' who use underhand tactics to beg from pedestrians and motorists. Before you know it, they morph into armed robbers, gangsters and rapists.
In Kampala, when you deny them handouts, for instance, spit foul-smelling saliva at you. Some carry human waste in plastic bags which they use to pelt or threaten people to give them something small.
Others, armed with knives, beat up people, vandalise cars belonging to those who deny them handouts. Apparently, some of these street kids are now being recruited by shroud business people, including gangsters, who use them for their selfish gains.
You have probably seen young boys and girls selling groundnuts or boiled maize at night, and wondered to yourself, don't they have homework? Where are their parents? You probably consoled yourself with the thought that perhaps they are the family breadwinner, thus opted to support their enterprising endeavor by buying their wares. It has now emerged that some are criminals in training.
This opportunity is quite attractive for any child from a broken home or living on the street as the take home on a good day is Sh3, 500 and the risks are purported to be minimal. The job varies depending on size, and the slim ones are tasked to slither through drain pipe and let the gang through, or pass items over the fence.
Upmarket areas
The more agile ones jump over the fence, and the ones that show brilliance or intelligence are taught how to take down wall mounted flat screens, and how to disable house and car alarms. They are also trained in how to move stealthily and the art of eluding security cameras.
Detectives who trailed a group of children from Mukono, about 45 mins drive from Kampala, discovered that they travel every evening from 5pm under the guise of selling boiled maize and sweet bananas. Thereafter they meet at designated points around the city at 11pm for deployment.
The brains behind this team are said to have employed about 50 children to target the upmarket areas of Kampala such as Kololo, Naguru and Muyenga.
The spiel probably includes a Robin Hood kind of spin regarding how the rich steal from the poor so it's okay to take back what is rightfully yours. The children may even be spun on the "win-win" opportunity of Sh3, 500 or a children's home if caught.
A child who has been suffering under harsh conditions will look at the guarantee where they are assured of cash for their needs or a bed, daily meals and a chance to go to school as a better opportunity than sleeping cold and hungry.
Someone is minting millions as the stolen goods are sold to designated shops in downtown Kampala where there is a ready market for cheap electronics.
This person is also creating future gangs and the trend needs to be stopped at the source before our children are forever lost to the dark side. Street children are a time-bomb, and soon terrorist will discover them and we will all be in a lot of trouble.