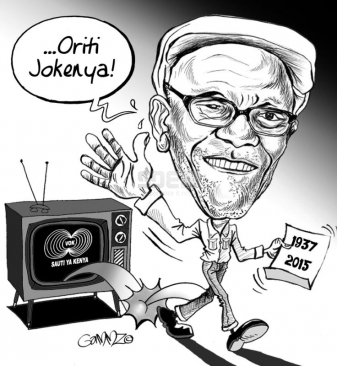 When news arrived that Mzee Ojwang was dead, I took a moment to mourn the veteran actor. He was more than popular TV personality to many Kenyans. Though many of my generation outgrew his brand of comedy, as our tastes evolved, no one forgets the reaction the first time they heard the name " Ojwang Hatari! Ondiek Mang'ang'a! Sibuor! brrrrr!
Mzee Ojwang was a small bodied man but his on screen persona was larger than life. I pay tribute to an influential Kenyan artiste and whose contributions to the arts helped inspire thousands that came after him. Mzee Ojwang was my first true appreciation of method acting. He convincingly adopted a separate personality and embodied it completely.
I remember how surprised I was when I discovered that Ojwang of Vitimbi and Vioja Mahakamani was a Kikuyu named Benson Wanjau Karira who lived his public life as a dramatic Luo man. Ojwang stayed true to character, moving the focus from his ethnic origins to the social issues of the day that he regularly highlighted. Ojwang used his mastery of sketch and situational comedy to gently coax laughs out of his audience.
His comedic routine was not heavily reliant on witty lines. He used body expression astutely and his quirky mannerisms that never failed to score a laugh. Ojwang's brand of comedy was also kind, almost benign. His routines were never socially inappropriate and he kept within the bounds of decency. Deep down, Ojwang must have understood that the social function of a comedian was to help audiences laugh at their fears and absurdities.
Vioja mahakamani
For people who grew up in the 80s and early 90s, Ojwang provided the perfect balance of humour and imagination required to shield a generation of Kenyan children from the vile truth of our ethnic prejudices. In single channel, Voice Of Kenya (now KBC) era, the ruling regime maintained a repressive policy around freedom of information. Television broadcasting was a heavily censored government monopoly and lifeless for the better part.
Original local shows were scarce and programming was flooded with foreign content that was mostly incompatible with local realities. Vitimbi and Vioja Mahakamani offered a much needed alternative of wholesome slap stick comedy and as good as family viewing got. The social themes were plainly laid out and moral lesson spelt out as the credits rolled at the end of every episode.
Mama kayayi
Mzee Ojwang was one of the first real TV stars outside of news casters, making a living in the arts. The 70s and 80s was an age when talented musicians were regularly stereotyped as promiscuous, party animal who would sing for alcohol. But Mzee Ojwang held steady as a professional artiste who delivered season after season and kept his private affairs out the public eye.
Kenyan comedy industry owes a lot to Mzee Ojwang's pioneering spirit. His style would became a national comedy staple. What is often not appreciated, is that before Ojwang, Kenyans had never seen tribe performed in such a radical way. Issues of tribe were taboo and delicate, yet Mzee Ojwang led from the front, navigating between Kenya's most pronounced ethnic animosities, the Kikuyu and Luo historical and political rivalry without upsetting anyone.
His contemporaries used Kenya's ethnic diversity and stereotypes to produce a rich tapestry of comedic material. Among pioneers of this style were stars such as Amka Twende, Othorongong'o Danger, Masanduku arap Simiti, Tama bin Tama (Ti Ti in bracket), Bwana Tumbo wa Maini, Baba Zero, Makanyaga, Wariahe (a.k.a Bhali yake), Maliwasa, Masaku, Otoyo Obambla and Mwala (before he became the inspector).
New players would emerge in post 90 eras, the likes of Mogaka, and Ondiek Nyuka Akwota but no one quite played off Mzee Ojwang as effortlessly as Mama Kayai. Their own screen chemistry was undisputed and they are by far the most successful acting duo in Kenya's longest running sitcom.
Mama Kayai was almost flawless in character which turned on the moral focus on Mzee Ojwang idiosyncrasies. He was certainly not the typical hubby. Mama Kayai towered above her husband shorter and despite his posturing he leaned heavily on her leadership of the household. As a pioneer TV dad he let his vulnerabilities show. Ojwang's brand of masculinity was rare in a time when brawny and stoic male characters were the flavor of the day.
Like all pioneers in all fields, his fame and brand value did not translate into financial reward but he nonetheless left Kenya's entertainment scene a lot richer. In his wake, Walter Mong'are, Churchill, Jalango and thousands of artistes are today enjoying the fruits of the seeds he planted. Laughter makes for good memories and Mzee Ojwang Hatari, left us with plenty. Rest in peace Ojwang'.