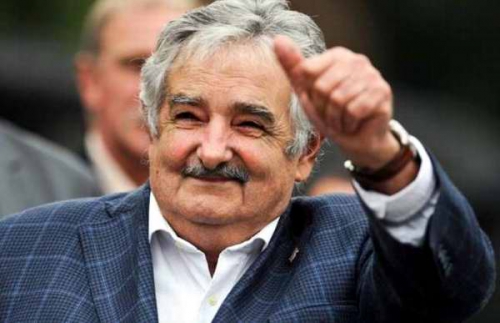 Uruguayan president Jose "Pepe" Mujica left office this month and I have to admit, I will miss the old bugger.
Men like Jose Mujica come around once in a lifetime to remind us of the power of simplicity.
Mujica was president for 5 years in a relatively small country of hardly 3 million people at the southern eastern end of South America but his blasé style of leadership caught the attention of world.
In these parts, Uruguay known is better known for its most famous export, Luis "The Cannibal" Suarez, the footballer.
Not many people know that Uruguay was declared the Economist magazine 'country of the year in 2013' and is touted as one of the most liberal and socially developed countries in the world. I guess it's only a place like that would produce an austere President with ex guerilla leader credentials, who drove a beat-up Volkswagen beetle with two police officers as the only security detail throughout his entire term.
Jose Mujica was an iconic example of public service. He donated 90 per cent of his $12,000 salary to charity and lived on a bare bones' farmhouse with his wife and three-legged dog.
He had no servants, drove a tractor and shunned a luxurious lifestyle, insisting on living like the majority.
It was his duty to serve and his sincerity was self-evident. Mujica wore casual clothes, sometimes donned sandals on official functions and was never spotted with a tie on.
He also retained the luxury of speaking his mind. One of his more known gaffes is when he called FIFA 'sons of bitches" for banning Luis Suarez during the infamous World Cup bite.
Economy grew
Jose Mujica's profile jumped to the world's attention when Uruguay became the first country in the world to legalise marijuana. In five years at the helm, he slashed the poverty rate by 40 per cent, the economy grew by 75 per cent and public spending increased to 50 per cent.
All this from a man who was captured four times as a guerilla fighter against dictatorship. He escaped twice from prison, was shot at six times and survived 14 years in the hole, a good part of it in solitary confinement. Before Jose Mujica, the notion of a humble president would have seemed a tad bit too idealistic.
To quote Jose Mujica, "A lot of people like a lot of money. They should not go into politics"
Related Topics