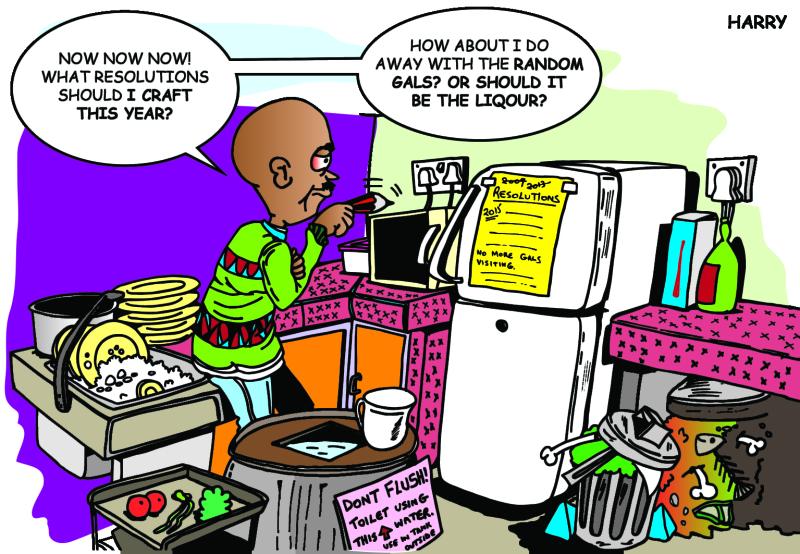 Please accept belated happy New Year greetings from Meta Meta school. I am fully reloaded for 2015 and have been looking forward to the end of the strike (and a salary increment too!) to start implementing my New Year resolutions. I spent the entire December 31st night in a kesha (night vigil).
By the end of the kesha at dawn, I had written down six resolutions which the man of God prayed over. I share the same with you. Resolution number one: I will endevour to do all that which is humanly possible and where necessary seek divine intervention to avoid Okonkwo's Memos, you know how petty headmasters can get.
For some reason, Okonkwo loves writing memos in bold red. Having read many novels by Chinua Achebe, he uses rather unflattering language. This year, no memo shall land on my desk asking for schemes or records of work.
Resolution Number Two: I will religiously make lesson plans and write lesson notes in the way my education lecturers instructed me at KU. My lesson plans will be complete with: introduction, development and conclusion.
I will also mark students' books promptly. An incident like the one last year when a quality assurance officer indicated in her confidential report "no lesson plans and rarely marks students work" will not recur.
I blame that incident for my failure to be promoted to job group M last year. Third resolution: In line with the Government's lap top project and the digital leadership, I am transforming myself into a digital teacher. To this end, I intend to apply for an emergency loan from Mwalimu National Sacco for the purposes of buying a lap top computer and a projector.
Pay welfare
With these gadgets, I could even teach from the comfort of my house, via Skype, whenever the weather is not agreeable. Paying all outstanding arrears for Meta Meta Teachers' Welfare Association was the fourth resolution that the man of God prayed over.
For some strange reason, a number of us always fall behind on the Sh200.00 monthly payment. Since Donatta took over as the welfare chair last year, she has pursued defaulters with the kind of zeal that possessed Shylock when he sought Antonio's kilogramme of flesh.
She boldly displays names of defaulters and amounts owed on a manila paper on the staffroom notice board. Imagine! Visitors and even students know who doesn't pay welfare contributions! Jeez, this woman!
Resolution Number Five: To avoid Schola and Donatta. Schola is the source of every juicy rumour at Meta Meta. Last year, I got two memos from Okonkwo for going to class late because I had been gullible enough to listen, or at times eavesdrop on Schola's latest 'muchene (gossip)' with female teachers during class time.
Free school food
Donatta on the other hand, always lures me into buying second hand clothes from her. "Socs, I have something for you," she conspiratorially whispers to me and before I know it, I am trying on a shirt or a pair of trousers.
"Mwalimu hii ni ya Camera, ona ata label," (this is specially selected and it's almost new, it even has the label) she coaxes me into buying an item that she had earlier gotten from Gikomba (Nairobi's popular market, well known for second hand stuff).
Before you know it, you realise that all the clothes you are putting on are from her and on credit too! The mother of all resolutions is to start carrying packed lunch to Meta Meta. In line with this resolution, I am currently shopping for a good food flask that will not embarrass me by popping open as I board or alight from a matatu.
Any suggestions? By this, I will not only eat healthy meals but I may also live for as many years as my great grandfather — folklore has it that he lived for close to two centuries. I will also be free from Jezebel's sarcastic remarks about people who complain about free school food, especially tea, whenever one points out her culinary incompetence.
Send Mwalimu feedback on [email protected]