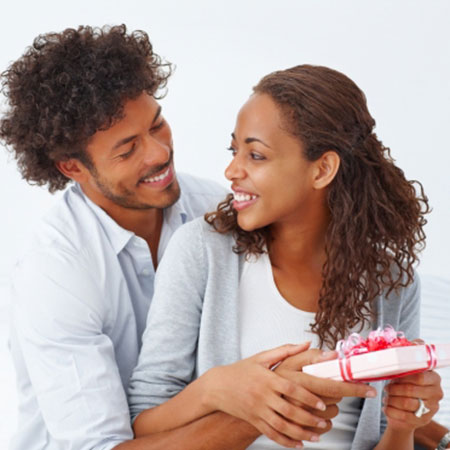 Woman giveing her man a present   Photo:madamenoire.com
Last week, we marked Fathers' Day. While as some of us got watches, whiskey and nice sweaters as presents, the rest of the legion did not get anything other than the routine peck on the cheek followed by, "Darling you haven't taken us to dinner of late, why don't you take us out now that it is Fathers' Day."
My pal, let us call him Herbert, was expecting all the goodies, but he got none.
So as we congregated on Tuesday night to watch Brazil get frustrated by Mexico.
As we talked, it emerged that our women expect all the gifts on Mothers' Day and on their birthdays but when it is their time to reciprocate, you will be lucky to get something, anything from them.
It emerged that we men are getting a raw deal when it comes to receiving presents.
Herbert had a moving story although I suspect alcohol may have had effect on the dramatic manner in which it was delivered.
He said that every time there is a big holiday on the horizon, he goes into depression.
This is because his woman expects a gift every holiday. Just think about that while the rest of the people are happy that they can take time off work, Herbert sees every holiday as another societal conspiracy to defraud him.
General agreement
But you've got to understand him. When you have a woman who demands gifts, even on national holidays such as Mashujaa Day, you got to dread holidays.
But as much as his case is the exception rather than the norm, the boys were in general agreement that it is okay to buy the occasional gift for a man. What may not be okay is to accept gifts from a woman.
But why is this? According to Brayo, accepting gifts from a woman is tantamount to being reduced to a trophy or prey. Chasing a man would depend on what she wants to happen once she nabs the catch, he argued.
"Of course, there are men who do not mind being chased or kept by a woman and others who are not for it. As for me, I'm in the latter group, but I cannot speak for Frao," said Brayo with a glint in his eye as he teased Frao.
Excites him
"A man's nature is to be in the hunt. This is a man's world," said Frao flatly as he dismissed Brayo's insinuation.
"But we can always buy gifts for our men," protested Stella.
If you are giving a gift for a special occasion, he can handle that.
Some men may think it is a girly thing, giving too many gifts.
After a while they won't enjoy it as much as the women. Unique gifts go over big, for example; if he is a golfer, a golfing journal.
We know that men want to stay close to what their idea of being a man is because that is comfortable, she asserted.
That is very true, Flo supported her. "Let me tell you, the emotional response of receiving gifts may disappoint you but that is who he is," she added.
So women, please do not get it twisted.
Women and men react differently to the same acts. What excites him is your response to the gifts he gives you.
That really makes a splash in his heart.