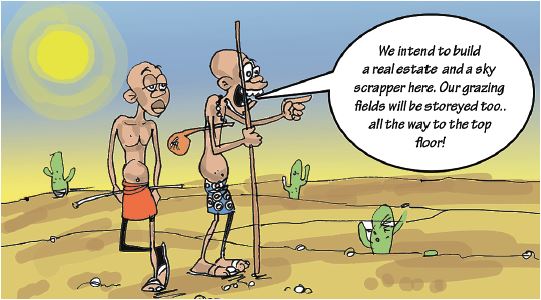 As a neighbouring country suffers from a cholera outbreak, Kenya on the other hand is struggling hard to contain a serious affliction of a 'me-too' mentality that has ravaged the nation.
The me-too mentality has been manifested mostly in the real estate development industry. Symptoms include every other organisation in the most unrelated of sectors making plans to venture into the property market. In the recent past corporations ranging from tyre makers to motorcycle dealers to confectioners have joined the bandwagon.
"This affliction has no known vaccine, and no known cure. And the best we can do about it is sit and watch helplessly like we do with every other crisis in the country," said a health official at a press conference where the Health ministry was addressing the media. This was shortly after the latest case of the affliction had just been reported when a group of nomads made known their intentions to invest in real estate.
Residential houses
"We have pooled funds together and we will be building another gated community which will consist of residential houses, a shopping mall, a school and other social amenities," the group spokesperson said. However, he made it clear that they would not be abandoning their nomadic lifestyle and start embracing permanent abodes.
"The houses we'll develop will not be for our own use. It's not our style to be permanently stationed anywhere. We are just doing what everyone is doing and this has nothing to do with trying to change the way we live," the spokesperson pointed out.
When pressed to say how they expect to be taken seriously when they have no prior experience in the housing development sector, they said that it doesn't matter because the Kenyan culture is to follow the herd and ask questions later. As it happens whenever things go wrong.
"We know it is ironic that nomads would go about developing permanent housing, but this is Kenya where you follow the trend thoughtlessly. Thinking is for indecisive and the idle," asserted the group spokesperson, before emphasising his point using quail farming and pyramid schemes.
The announcement by the nomads comes hot on the heels of the confirmation of rumours that a group of hole-dwelling end-time cultists who had also shown interest in real estate development are actually going to put their money in the sector.
"Of course not for our use since we already have well dug holes that we live in waiting for the day of rapture," pointed out the cult leader while confirming what has been long running speculation. This further sparked rumours that with the way things are going next to join the fray will be the hunter and gatherer communities of Southern Africa.
Look strange
"With the way things are going and if the current trend in the country continues, any individual or organisation without some investment in real estate will look strange and might get their Kenyan citizenship revoked for not participating in a national pastime," suggested Cement Wambora, a property analyst.
But while those corporations venturing into real estate from very unrelated backgrounds cite the need to diversify their income streams and reduce overreliance on their core business, experts are urging caution.
"Some of these diversification strategies we have seen are quite strange and no different from, say a eunuch investing in a condom manufacturing plant," Cement Wambora added. "Or nuns who have taken a vow of silence opening a radio station."