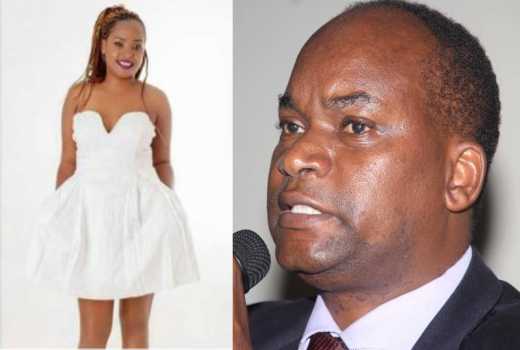 The relative of the Deputy Governor delivered Sh1.3 million in cash that was demanded by his tormentors
The woman, identified as Elizabeth Waithera Njuguna is believed to be an "expert in sex set-ups
The gang that allegedly busted Kirinyaga Deputy Governor Peter Ndambiri butt-naked with another woman, released an explicit video online following delays by their victim to pay millions of shillings they were demanding in a blackmail racket.
Peter Ndambiri, a businessman whom Governor Anne Waiguru picked as running mate in last year's elections, claimed he was ensnared in bed with a woman identified as Elizabeth Waithera Njuguna.
The woman is believed to be an "expert in sex set-ups."
The sex scandal forced the deputy governor to leave the fifth edition of the devolution conference that was going on in Kakamega County.
It seems like the initial intention was to create an impression that the video was shot in Kakamega during the conference.
But in reality, it was filmed in Thika town long before the conference.
Now, a section of Kirinyaga County Assembly members are hatching a plot to impeach Ndambiri, citing Chapter Six of the Constitution as the basis for kicking him out of office.
Waithera, a single mother to a seven-year-old boy, moved from Kahawa West and now lives in Membley estate in Ruiru in the outskirts of Nairobi.
She is said to haunt joints frequented by celebrities and high-profile personalities from Central Kenya, especially musicians and politicians who hang around Thika highway and the Kamakis area along the Eastern Bypass, where she works in cahoots with three accomplices.
Ndambiri who has a master's degree in marriage and family therapy from Pan African Christian University, claims he was set up.
Those who know Waithera, such as Kiambu-based gospel artiste Jayne Ge, alleged that it was not her first successful trap.
Waithera, a trained nurse from a medical college in Machakos County, has since deleted contents of her Facebook profile.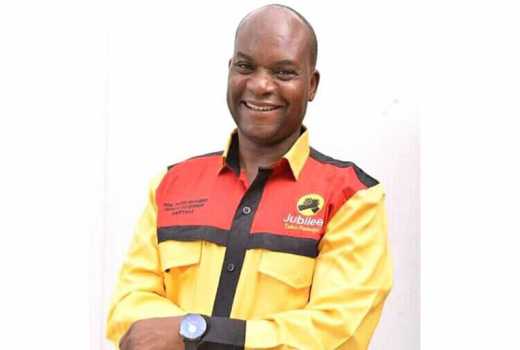 A blood relative of the deputy governor told The Nairobian that the incident took place in a house at Githigiri estate in Thika town, where the politician had allegedly visited to view a house he was interested in buying.
As Michael Douglas, starring as Gordon Gekko observed in the Hollywood film Wall Street: "Greed for lack of a better word is good."
The deputy governor's tormentors may as well have been inspired by that line when they demanded Sh5 million from the businessman-turned-politician for looking up the skirt of a married woman.
Ndambiri's relative told The Nairobian that he delivered in cash Sh1.3 million to the blackmailers, but they demanded the Sh3.7 million balance.
"By the time they released the video clip on social media, there was a balance of Sh3.7 million, which we were in the process of paying," said the relative, adding that, "What those people did was very inhuman."
In the video, the politician is repeatedly forced to say aloud his name in full as he pleads in between slaps.
Throughout, Waithera watches amidst sobs.
This is how the drama unfolded in part as captured in the video:
Man: Who you are and what's your name?
Deputy governor: Ndambiri wa Njagi.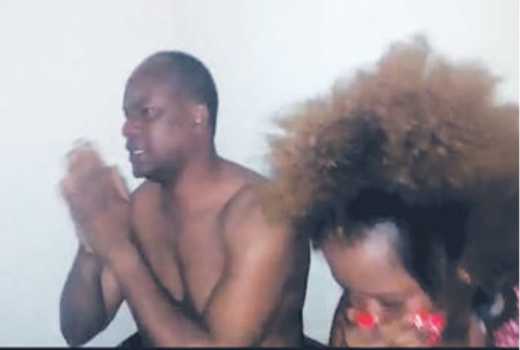 Man: Why are you leaving out the name Peter? Tell us what you do!
Deputy governor: I'm a businessman.
Man: Are you not the deputy governor of Kirinyaga?
When Ndambiri was threatened that the media would be called to the scene, he admitted to being Waiguru's deputy and confessed to having had uncountable sexual escapades with the woman.
In his defence he said that, "I didn't know she is married. In fact, I was planning to visit her family for bride price negotiations. She didn't tell me she was married," pleaded the corned politician.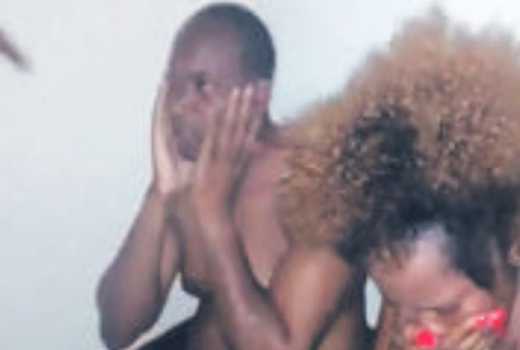 The contrite Ndambiri begged the man standing over them as he sat straight-legged in bed next to the 'cheating' woman, both wearing nothing but their birthday suits: "My apologies to you brother for this act. If I knew she was married, I wouldn't have come close to her."
The deputy governor has since denied ever apologising to the alleged husband in the video.
He has also denied acknowledging that he knew Waithera, explaining that such statements could jeopardise police investigations.
Those who know Waithera, who only made half-hearted efforts to cover her nudity during the episode with the deputy governor, said that, "This is the second time amefanya successful set-up." That is what Jayne wrote on her Facebook page and uploaded a photo of the woman.
Kikuyu comedian Muthee Kiengei wa Watoria admitted to personally knowing Waithera as a "tough extortionist."
He claimed Ndambiri was setup.
He identified a popular herbalist as one of the woman's victims, who ended up coughing Sh1.2 million.
He was apparently lured by Waithera to her house, who later took nude photos of them together and then blackmailed him to pay up if he didn't want his pictures released online.
An MCA from Kiganjo in Gatundu South also became Sh100, 000 poorer when he fell into Waithera's trap. The politician reported the matter to the police and the case is still pending in a Kiambu court.
Ndambiri recorded a statement with the police at the Central Police Station in Thika and described the ordeal as set up.
A section of politicians have since come to his defence, including Moses Kuria, the Gatundu South MP who linked his plight to a criminal gang in Kiambu that has a tendency of blackmailing people by exposing their nudes on social media.
Kuria said the Kiambu gang once lured an MCA into a house at Kihunguro in Ruiru where he was busted pants down with the 'wife' of a chicken seller.
The politician had to feather the gang's wallet with Sh53,000 as blackmail quid.
"I always say it is nonsensical to pay and succumb to blackmail because that only serves to feed such extortionist rackets and encourages criminal networks to thrive. It is a pity that the Kirinyaga DG did not immediately report the matter to police," Kuria posted on Facebook.
"If it were me, I would simply have paid them off. But not with money. These cartels are rampant, especially in Kiambu County," he added.
Homa Bay Township MP Peter Kaluma said the "right to privacy is guaranteed by the Constitution. This idea of recording people naked and posting their photos online is immoral and unacceptable! It hurts innocent children and affects their sense of security for life."
Story by David Odongo, Kamau Maichuhie, Kelvin Kamau, Nathan Ochunge, Stephen Mburu and Joseph Muchiri.
Related Topics