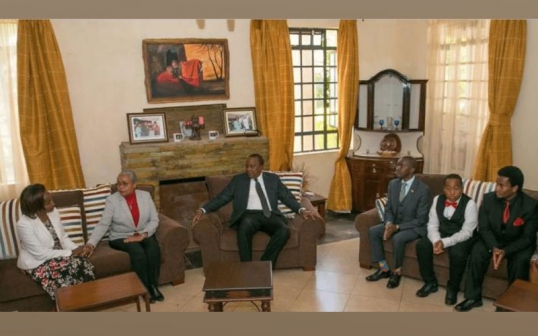 When Kui met Dr Gakuru, she was 22 and he was 43. Two years later, their age difference was still a problem
She built the Runda home with him, hand-picking bricks and tiles, so that he could have access to his children with the first wife
New details have emerged about the love life of the late Nyeri Governor Dr Wahome Gakuru and Kui Mwaura, his second wife who demanded a DNA test before the county chief was buried following a fatal road accident early November.
But it was when she was barred from playing any role in his burial that she moved to court demanding the DNA test to prove her son needed to say farewell to his father.
The tests were consented to by the Gakuru family and samples collected at the Lee Funeral Home by officials from Lancet Laboratories. That is how Kui was eventually allowed to attend the burial after Lady Justice RE Ougo ordered that she and her child be part of the funeral ceremony in Kagumo High School.
But she was not allowed to make any tributes as only Dr Gakuru's first wife, Catherine Kirumba Gakuru, paraded her sons.
Dr Gakuru's family, however, did not object to caring and recognising the rights of her son if DNA results, which were taken to South Africa proved he was the late Dr Gakuru's son. Nonetheless, the son was allowed to be at his father's grave side in the company of a relative, but without Kui.
The case is set for hearing on December 18 when the DNA results will be tabled before the judge for directions.
Kui and the late Governor were reportedly planning for a second baby before his death. A source close to the Gakuru family told The Nairobian that the late governor led a turbulent life after his first wife, Catherine, left, leaving him searching for a new squeeze in his 40s.
The woman he would later live and sire a baby with Kui, then 22.
That was 10 years ago when she left their then home at Opal Court Apartments on State House Road.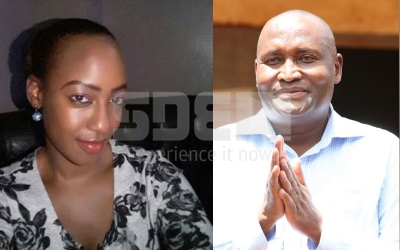 Catherine later returned to pick her sons after settling in an apartment in Westlands.
Lonely Gakuru began dating again in search of love. It was at this time that he bumped into Diana Kendi, a student at USIU who was at Nairobi's Intercontinental Hotel on a university function. He was there on business. The two hit it off, dated for one and a half years before breaking up.
They later reunited and Dr Gakuru appointed her the Nyeri County Executive for Trade, Tourism and Cooperative Development.
Kendi is not related to Catherine as earlier reported in sections of the media and neither did she have any children with the late governor.
A few months after breaking up with Kendi, Dr Gakuru's friends set him up on a blind date with Wangui Mwaura in 2009.
Kui, as her friends call her, was then working for an advertising agency.
They hit it off on their first date that lasted five hours. It was chemistry at first sight and 10 dates followed back-to-back.
Kui found him very intelligent and witty, a doting romantic who cooked for her after welcoming her with a glass of wine. Dr Gakuru, a foodie, loved to travel and would experiment with different dishes in the kitchen. She also fell in love with his generous heart. Never mind that he was very short-tempered.
Two months later, they moved in together at Opal Court Apartments where he was living like a bachelor with his younger brother. The house didn't even have curtains.
Two years later in 2011, they moved houses to the Kilimani house where Kui and her son now live.
But there was a problem.
When Kui met Dr Gakuru, she was 22, he was 43. Two years later, their age difference was still a problem.
He was mature, stable and ready to settle down. Kui was young and unsure.
Their priorities and values were mismatched. But after sometime, they struck a balance and started gelling.
Dr Gakuru desired to build a house in Runda, Nairobi to have access to his sons with his first wife Catherine.
The source told The Nairobian that it was Kui who supervised construction, going to Gikomba and Kiambu County to buy building materials, hand-picking all bricks and tiles.
Dr Gakuru formally took Kui to meet his parents in Kirichu in 2012 and she also introduced him to her family. Though initially concerned over their age gap, they accepted after getting to know him.
Kui helped run his consultancy firm which offered strategic management options to corporations before being involved with political campaigns during Dr Gakuru's first stab at the seat for Nyeri Governor in 2013.
All Dr Gakuru's friends knew about Kui who gave birth to their baby son in 2014. They named him together.
But come the 2017 campaigns for Nyeri Governor and Dr Gakuru was forced to parade his first wife and children after his political detractors began spreading rumours that he had no family and was thus unfit to lead.
Under pressure, he asked Catherine to appear in a political rally. "It was just for politics," said our source, adding that there was to be no further contacts after his inauguration as Governor as divorce papers had been drawn up but had not been filed in court before his death.
But not willing to confront mourners who thronged Dr Gakuru's Runda home, Kui retreated to her Kilimani home where she mourned him in private.
The source added that most of Dr Gakuru's personal documents and clothes were at their home where Kui lived, but the hostility she faced from Gakuru's family and friends kept her off.
Related Topics