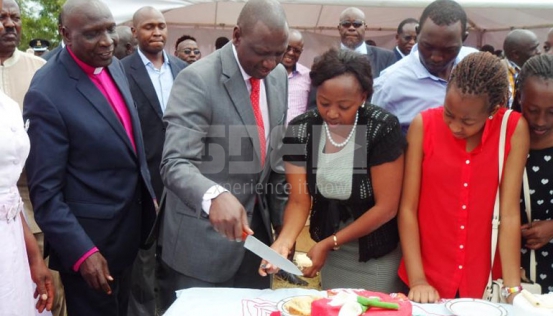 William Ruto wasn't always rich. He was a poor, unknown youngster, toiling in his father's farm when he was not in school. During university holidays Ruto taught in Sergoit and Kamagut secondary schools both in Uasin Gishu County as an untrained teacher.
At the University of Nairobi where he studied Botany and Zoology, he would spend his time as an "evangelist" while his wife sang in the choir. They used "to go for missions" and that is how they met, he said in a past recording of the Churchill Live show.
He has admitted going to visit the retired president Daniel arap Moi at State House back when he was in university as part of a group of students and whenever he left, he'd leave with "handouts".
"I am just a village boy, self-made in many aspects," he said in a past TV interview.
Ruto was also part of the Youth for Kanu 92, that lobby group that ruined the economy. When he looks back at his then mentor, Cyrus Jirongo, he wonders how he became richer than his master.
"Hii maneno ni kujipanga my friend," (you've got to plan my friend) he told Jirongo at a funeral meeting earlier in the year.
Ruto has been MP for Eldoret North Constituency since 1997 and completed his uninterrupted term in 2013 when he vied for the presidency.
There was a lot of tax-free hefty pay for the MPs, huge allowances, and such monies plus the influence of being an MP provides a lot of opportunities for investment. He invested in real estate and land.
He was also a minister in the Moi and Kibaki governments serving first in the powerful Home Affairs docket in 2002, and in the Agriculture and Higher Education dockets during the coalition government. There a lot of perks in these and a lot of influence.
His critics say his wealth is part of proceeds of corruption, but Ruto asks one question. He doesn't have political godfathers, he says, so if he had really stolen, he'd be rotting in jail.
But his critics retort, this is Kenya, which rich person has ever been convicted of corruption? None.
Related Topics