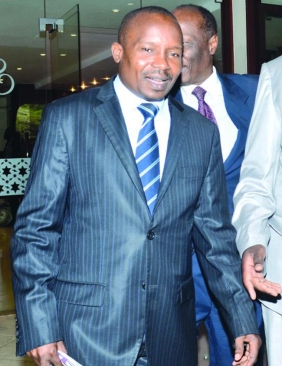 Where is Kindiki Kithure? People who were becoming increasingly aware of the youthful Tharaka Nithi senator and Senate Majority Leader are wondering why he is keeping such a low profile in Meru after raising political temperatures for months.
His supporters say Kindiki is a master tactician who has a lot of support from people who matter in Meru, but is only taking a low profile while his troops rally the masses behind him.
A senior politician, who declined to be named, said: "It is not as if he has been avoiding coming here. He is a national leader who has to visit all corners of the country. He has been here many times before for church, political and developmental events. And you will see him here more often before long."
But Senator Kindiki says people should not read too much into his absence from Meru.
"There is nothing unusual in my absence. It is true I have not been around for a few months, but I have been working behind the scenes. In politics, you can't speak all the time. After the recess, I will be more visible in Meru, Embu, Tharaka Nithi and other parts of the country," said Kindiki.
Igembe North MP Joseph Eruaki said it is wise of Kindiki to make himself scarce sometimes to cool down the political temperatures he generated in Meru.
"What he has done is a tactful retreat. But he is still doing a lot of work in his county and country. If I were him, I would go silent as well.
"As the Senate Majority Leader, Kindiki is the most senior politician in the larger Meru region. I am a supporter of Ruto and Kindiki. At the end of the day, Meru will be with Ruto, and we would prefer he picks a running mate from the larger Meru," said Eruaki.
Ruto's hint
Tigania East MP Mpuru Aburi says he supports Kindiki keeping a low profile for now, because his sustained presence had rubbed a section of leaders the wrong way.
"Kindiki has a lot of support among the youth and other sections of the population. It was prudent for him to stay 'quiet' for a little while because he unsettled some people in Meru.
"We advised him to keep away from Meru for a while, because he was making people run around scared," said Mpuru.
There has been speculation that Kindiki is being groomed to be Deputy President William Ruto's running mate in 2022. On a recent visit to Kathangacine in Tharaka Nithi County, Ruto almost let the cat out of the bag and stopped short of naming the Senate Majority Leader as a deputy presidential candidate.
Speaking at Kathangacine Primary School in Tharaka during a funds drive in June, the deputy president likened his rise to political power to Kindiki's. He asked residents to back him as he develops the region and national duties. He said that when he served as Eldoret North MP, he faced opposition just as the Tharaka Nithi senator, but he managed to overcome the challenges and rose to become the deputy president.
"President Uhuru and I delegate duties to Prof Kindiki because we recognise his abilities. You know him. The President and I usually depend on him to run errands, he is our messenger. You should be ready," Ruto told the crowd that including Governor Samuel Ragwa, several MPs and MCAs.
Residents at the event held their breath, waiting for the DP to utter the words that would effectively dim hopes of any other person dreaming of the plum job. A number of Meru leaders want Ruto to pick one of their own as his number two.
But Governor Peter Munya's supporters have also been quoted urging him to run for the presidency or have him as a running mate, which could be the basis of their sibling rivalry with Kindiki.
Prof Kindiki, who told this writer that he has 'very cordial relationships with Meru political leaders apart from one or two,' said although it is important for one to connect with the electorate and political leaders, a leader should not talk all the time.
"You need time to think and plan, and attend to personal issues and get some rest. What is important is to work together with leaders in the region to articulate our interests and support the Jubilee government's projects," he added.
Political contest
Political gossip about who will run for office in the next general elections is making residents salivate while lining up better known politicians against each other. Imenti South MP, Kathuri Murungi, is emerging as a powerhouse after a group of MPs allegedly ousted Igembe South MP Mithika Linturi as their chairman. But Meru County Deputy Speaker Gideon Kimathi wants his job. According to George Mutwiri, a banker who keenly follows the region's politics, another contest will pit Imenti Central's Gideon Mwiti against either wealthy businessman Muriuki Kidigo or County Secretary Julius Kimathi.
In North Imenti, Rahim Dawood will square it out with youthful lawyer Ken Muriuki and former MP Silas Muriuki as Meru County water executive Mary Mwiti goes for Women Rep Florence Kajuju.
But what is making voters salivate helplessly is the possibility of Meru Senator Kiraitu Murungi running against Governor Peter Munya. Although Murungi has publicly said he is not interested in becoming governor, observers, including Patrick Muthuri, a community leader, and Edwin Marete, a renowned businessman in the county, say Kiraitu would beat Munya hands down.
"We can say we are 70 per cent sure of a Kiraitu win if he runs against Munya. It is him who groomed Munya who vied using Kiraitu's Alliance Party of Kenya ticket," says Marete.
Related Topics