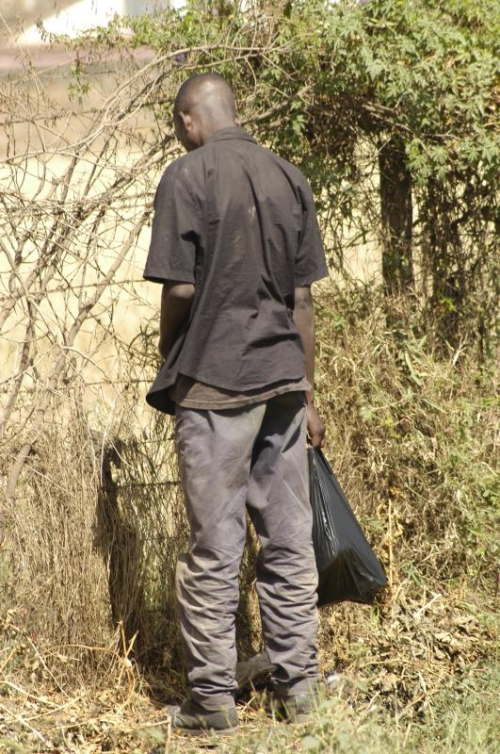 The sirkal of Jakaya Kikwete has banned the Kigodoro dance that involved aggressive twerking and, in extreme cases, undressing. Even as fans protest the move, perhaps, Nairobi Governor Evans Kidero should borrow a leaf from Tanzanian authorities and crack the whip and ban the following tabia mbaya:
1. Watering the nation 'hadharani'
Walking around Nairobi leaves you wondering whether Kanjo toilet services are unaffordable to a section of Nairobi men. Or is it that Nairobi has an epidemic of loose bladders? It is not strange to see men unzip and relieve themselves behind walls, buildings, kiosks or even power posts and trees. This, I believe, is against the city's by-laws.
2. No 'cha baba na cha mama'
Have you been to Nairobi parks like Uhuru Park? If you haven't, be warned. You might mistake these monuments for Muliro Gardens, for you-know-what. Since turning public space into bedrooms is against the county's by-laws, Governor Kidero must crack the whip and rid us of the misdemeanour.
3. Mukombero hawkers
Why is there hawking of Mukombero, the libido-enhancing root, in the city without the consent of Mulembe people? Now that we have devolved governance, Kakamega County should patent this root and impose stiff levies on other counties like Nairobi.
4. ATM 'zinasikitika'
Why are Nairobi bank ATMs always out of service? It cuts across, with banks now seemingly always displaying the 'I am being serviced' or 'This ATM has no cash' when you urgently need chapaa.
5. Your wifey is your 'shauri'
Seeing your friends get married is great. It gives you hope, especially if you are in your late 20s. It however gets tricky when the burden of financing the wedding is left to friends. Today, venues that host wedding planning meetings are doing roaring business. Wedding committees have become a financial torture that Kidero's Kanjo should rescue us from.
6. Ma-skele wanaumia
With the increasing number of obese Kenyans and ever-bulging hips of Nairobi women, matatus need to consider expanding the size of their seats. By-laws should allow makangas to double-charge momos? After all, they literally occupy two seats. Someone finyas you as if amekulipia. Jamaneni sirkal, wanaoumia ni ma-skele!
7. Probox are not chase cars
It is just ridiculous! When did the Toyota Probox become a preferred chase car? Nairobians are on a daily basis confronted by speeding Probox cars escorting cash in transit. Why can't a portion of the money be invested in serious chase cars? The Probox should be restricted to ferrying miraa from Meru.
8. Feed dirty 'kanges' to crocs
Nairobi touts are likely to top the list of most unkempt lot South of the Sahara. Most, if not all, do not have a JD or code of conduct. How do we allow dirty ruffians to take over a multi-million shilling industry? Kidero should stuff all dirty makangas into a Kanjo lorry and banish them from the city.
9. No 'momo' men in Vitz
Nairobi men appear to be losing their machismo. No wonder, they have no qualms carrying handbags.You will see more men in tiny cars, while city women are spinning monstrous vehicles. This is unacceptable. All big men in small cars should be kicked out of the city.
10. Being 'kuku' about chicken
Using Nairobi PSVs leaves you wondering if you are in Khwisero or Shamakhokho, where the chicken is king. Imagine yourself in a ma3 next to Wanyonyi with a jogoo under his armpit? Matatus with live kuku should be clearly marked, 'Chicken on board' or banned altogether.
Related Topics