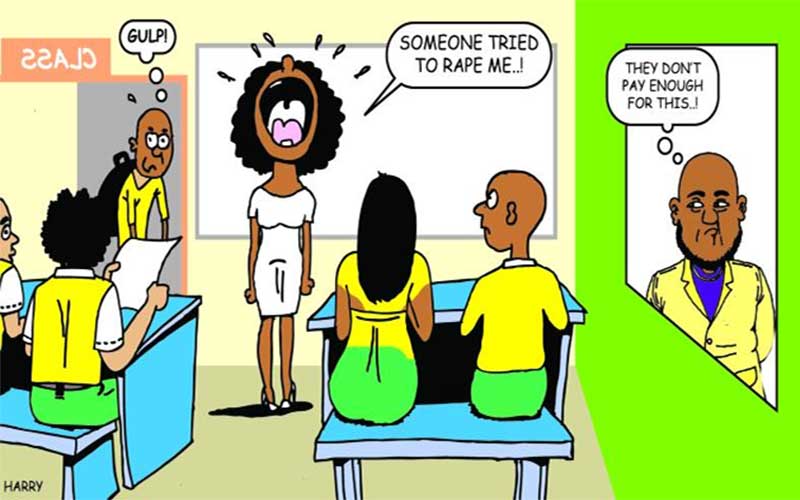 The secondary schools' heads conference in Mombasa couldn't have come at a better time. The sandy beaches and the breeze of the Indian Ocean will definitely help cool our school head, Okonkwo's frayed nerves. Schola, the rumour monger cook swears she found him muttering to himself on Thursday morning.
Scandals seem to have a soft spot for Meta Meta. Just before the storm raised when students stole a phone belonging to a quality assurance officer form the Ministry of Education had settled, Donatta walked into another on Saturday morning.
She is now seeing rapists at every turn she takes. Magarita's counselling and prayers have not helped.
Last week on Saturday, she was on duty when some boys from Serengeti dormitory refused to go for early morning preps. "Those are the students who are making us record low mean scores. Do they think this is a hotel?" she asked, when the matter was reported to her.
She then marched towards Serengeti to flush them out. She stood at the door and ordered the boys out. While some left their beds, others appeared reluctant and even started whistling. She was forced to walk in. She was standing in the middle of the dorm when two boys walked towards her. They were stark naked. She took off towards the exit while shouting for soldier.
Soldier led a shaken Donatta to the staffroom. When Okonkwo was called, she informed him that some boys had attempted to rape her. The incident coupled with the alleged rape at Moi Nairobi girls has made teachers apprehensive.
Okonkwo hardly sleeps as he patrols the school throughout the night. Last week, the boarding master declined to join in the patrols.
When summoned by Okonkwo and his deputy, Wa Makeri the following morning, he informed them that he was posted to the school as a teacher, not as a security guard. Many teachers residing in the school compound have expressed their intention to move out. Last week, Madam Flo gave notice that she would be vacating the school house during the half term vacation.
Okonkwo was excited since the house could be given to a more active teacher to help with supervision of boarders. He called the school artisan and instructed him to repair and paint the three-bedroom house as soon as Flo left. A number of teachers were in line waiting for a staff house to fall vacant.
After consulting with Wa Makeri, they decided to offer the house to Aeneas. When Aeneas was called to the principal's office and the good news broken to him, he simply shook his head and asked: "Who wants to stay in a school house and be subjected to invasive DNA tests in case of an incident like that of Moi Nairobi Girls. I am no longer interested."
Both Okonkwo and Wa Makeri were taken aback. Before they could digest this information, the secretary walked in with a letter from Schola. She too was planning to move out.
"Let those who are paid allowances by the TSC supervise boarding." Aeneas posted on his Facebook wall. As matters stand, Okonkwo and Wa Makeri may end up being the only TSC teachers staying in the school compound. Okonkwo has called for a crisis meeting immediately after half term break.
[email protected]
Related Topics